Germany Willing to Consider Russia's Sputnik Covid-19 Vaccine
(Bloomberg) -- Germany would consider buying Russia's Sputnik V Covid-19 vaccine even if some of its European partners choose not to, according to Chancellor Angela Merkel's chief spokesman.
Germany signed up to a program under which the European Union is in charge of sourcing most of the coronavirus vaccines bought by the bloc. However, Merkel's government could envisage buying the Sputnik shot itself as long as it is approved in the normal way by the EU's regulator, her spokesman, Steffen Seibert, said Wednesday at a regular news conference.
He was speaking after Merkel discussed Sputnik and "opportunities for cooperation in the vaccine sector" with Russian President Vladimir Putin and French President Emmanuel Macron on a call on Tuesday. The German leader has come under pressure to consider adding Sputnik to the country's list of approved Covid-19 shots to help speed up its stuttering inoculation drive.
"Germany doesn't judge a vaccine by which country it comes from but by whether it meets the criteria of the European Medicines Agency," Seibert said. "We are not there yet and need to wait for the evaluation."
Germany is closely involved in the approval process for Sputnik as it is one of the EMA's so-called "rapporteurs" for the assessment of the vaccine, Hanno Kautz, a health ministry spokesman, said at the same news conference. The rapporteur leads an assessment team with officials from their national agency or other national agencies.
However, Kautz said Germany has yet to receive any data on the shot, suggesting it may take some time for the process to be completed.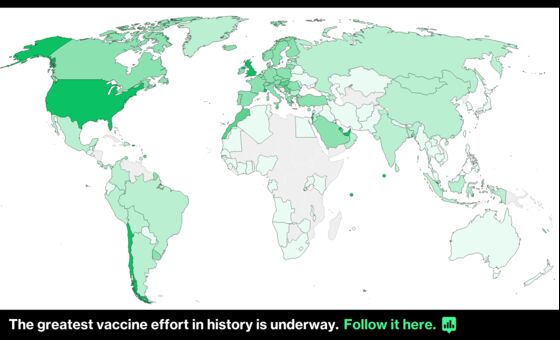 EU leaders were told during a video conference last week that it could be three to four months before Sputnik receives EMA approval, according to a diplomatic cable seen by Bloomberg. Some leaders questioned whether the drug would still be needed at that point, the note said.
Russia has persuaded more than 50 countries to approve Sputnik V, with several million doses already delivered to Latin America, the biggest demand so far.
Austria is in talks to purchase the vaccine as early as next week and could get as many as 300,000 Sputnik doses in April, Chancellor Sebastian Kurz said Wednesday after a meeting with the Russian ambassador in Vienna.
"We're still coordinating the details and have already had weeks of talks," Kurz said in a statement. He didn't specify whether Austria would wait for EMA approval.
The Russian Direct Investment Fund, which backed the vaccine's development and is in charge of its international roll-out, has set out plans to boost overseas production to supply shots to almost one in ten people on the planet this year.