Germany Weighs 50 Billion-Euro Spending Boost on Virus Costs
(Bloomberg) -- Chancellor Angela Merkel's government is weighing as much as 50 billion euros ($61 billion) in additional debt spending to fight the fallout from the coronavirus crisis.
Germany's coronavirus cabinet on Monday discussed the financing for Covid-19 tests and other measures to support Europe's largest economy. The funding -- equivalent to about 1.5% of German gross domestic product -- reflects an initial estimate, and it's still unclear if the money will be needed in the end, according to people familiar with the discussions.
The government will likely spend aggressively next year as well. Finance Minister Olaf Scholz plans to propose a draft 2022 budget, which will call for suspending the constitutional debt brake for a third straight year, the people said.
"It's important that the financial means for testing and vaccines will be available," Dennis Kolberg, a spokesman for the finance ministry said at a regular government press conference. "The budget is currently being put together," he said, declining to specify an amount.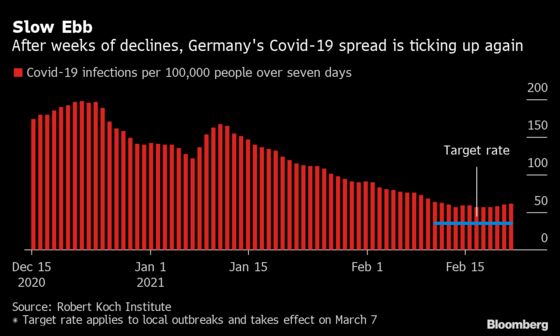 Germany's 2021 budget currently foresees 180 billion euros in debt spending. Any plans to increase borrowing will depend on what the government decides on testing and the strategy for exiting its lockdown. The slower the exit, the higher the costs become for the government.
Merkel's administration will present its 2022 budget proposal and its medium-term financing plan on March 24. The final decision on public spending beyond this year will be left to the new parliament after September elections.
Scholz, who is running for chancellor for the Social Democrats, has repeatedly pledged that the government will spend freely to limit the economic damage from the pandemic. He's said years of budget discipline have put Germany in a strong position to cope with the fallout.
Is It Enough? Tracking Major Economies' Stimulus Measures
As aggressive new variants spread, the country's contagion rate has inched up for three straight days even before the first easing steps in months go into effect. Alongside a sluggish vaccine rollout, the setback suggests Germany's efforts to exit pandemic restrictions will be gradual.
Under pressure from a pandemic-weary public, Merkel told the leadership of her Christian Democratic party on Monday that the next steps to ease restrictions will have to be done carefully and with more testing, according to a person familiar with those discussions.