Germany Agrees to Extend Weidmann's Term as Bundesbank Chief
(Bloomberg) -- Want the lowdown on European markets? In your inbox before the open, every day. Sign up here.
German Chancellor Angela Merkel's cabinet agreed to extend Jens Weidmann's term as head of the Bundesbank by another eight years from May as he waits to see if he is picked later this year for the top job at the European Central Bank.
The decision, which needs formal approval from President Frank-Walter Steinmeier, was taken at a meeting on Wednesday, the government said in an emailed statement. Weidmann, whose current term expires in April, is seen as one of the potential successors to Mario Draghi as ECB president in November.
He became the German central bank's youngest president in 2011 after his predecessor, Axel Weber, resigned to protest ECB bond purchases. Weidmann has taken a hard line against loose monetary conditions, earning him respect at home but criticism from Draghi for his perceived intransigence.
Weidmann was once seen as the frontrunner to become the euro region's highest central bank official and the first German in the job. However, he suffered a setback when compatriot Manfred Weber was put forward by the European People's Party as their candidate for European Commission president.
European Union governments are unlikely to allow Germany to fill two such senior posts, but Weidmann's chances could improve if Weber's bid fails after EU Parliament elections in May. The appointment will be part of complex government horse-trading, focusing on nationality and gender as well as expertise.
EU governments this year will also need to agree on successors for the heads of the European Council and European Parliament, among other key posts.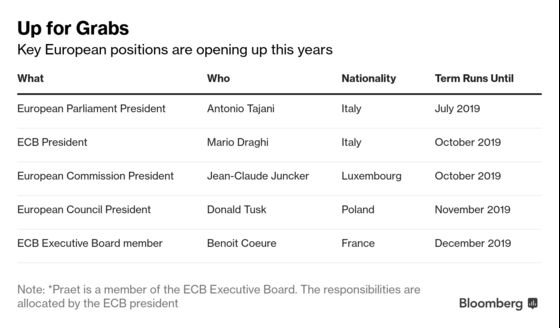 After studying in Germany and France, Weidmann worked at the International Monetary Fund, and took a break from the Bundesbank from 2006 to 2011 to work as an adviser to Merkel.