Merkel Bows to Public Pressure and Backs Easing of Lockdown
(Bloomberg) -- Chancellor Angela Merkel backed a relaxation of coronavirus restrictions despite a stubbornly high infection rate, acknowledging that many Germans are weary of curbs on daily life after months of lockdown.
The German leader had been pushing back against increasingly insistent calls for a swifter loosening, but told lawmakers from her conservative bloc Tuesday that "easing is necessary," according to a person familiar with the discussion.
She explained her plan to extend most of the country's lockdown measures until March 28 while also allowing some restrictions to be relaxed. The chancellor and the premiers of Germany's 16 states are expected to sign off on the measures in talks later on Wednesday.
"If the infection rate remains stable then we can take further easing steps, secured by more testing," Health Minister Jens Spahn said Wednesday in an interview with ARD television.
"This is not just about science, it's also about finding the balance for society between the best-possible protection and at the same time the impact that has and our need for normality," he added.
While Merkel warned that faster-spreading virus mutations now account for half of infections, she said she understands the political pressure to start lifting the lockdown. Her chancellery is proposing a four-step easing strategy accompanied by widespread testing, and pushing to speed up vaccinations after a slow start.
Measures like shuttering non-essential stores, gyms and restaurants will be prolonged, while restrictions on private meetings between households will be eased, according to a draft chancellery paper from late Monday.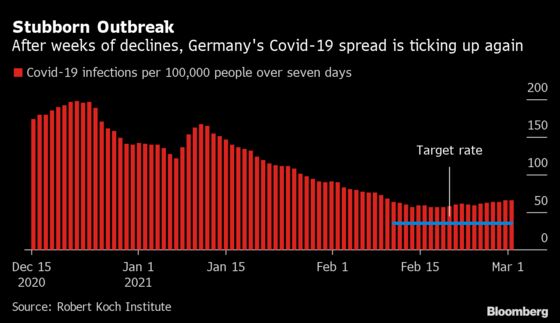 Merkel has come under growing pressure to lay out a path to lifting the country's lockdown. Finance Minister Olaf Scholz and Economy Minister Peter Altmaier were the latest senior officials to call for a quicker reopening of Europe's largest economy. Both have backed proposals to move away from a reliance on using the seven-day incidence rate to manage Germany's pandemic and focus on ramping up testing.
Free tests will be offered to Germans on a large scale from April, with schools and daycare centers being prioritized, Merkel said in the video call, according to the person. Businesses will also be offered free tests for their employees and the costs of those measures will be close to 1 billion euros ($1.21 billion) for April, May and June.
The number of available vaccine doses will pick up in the second quarter, so that by July enough people will be vaccinated and testing will become less important, Merkel said.
Germany's Lockdown Strategy
Highlights of the chancellery's proposal to ease pandemic restrictions:
Closure

of most non-essential shops, gyms, hotels and restaurants to be extended until March 28
Rules on private gatherings to be relaxed from March 8:

Two households allowed to meet with a maximum of five people, not counting children 14 years and younger

Second opening stage after hairdressers resumed on March 1:

Book stores as well as flower and gardening shops to be allowed to reopen with strict hygiene rules and entry for one customer per 20 square meters
Driving and flying schools allowed to reopen if customers can show a test result from the same day

Third opening stage:

Shops, museums, galleries and zoos can reopen and outdoor sport in small groups allowed in regions with a steady incidence rate of less than 35

Fourth opening stage:

Outdoor restaurants, theaters, concert halls and cinemas can reopen and sport activities can resume if incidence rate stays below 35 for another 14 days
As part of the gradual easing plan, private gatherings of two households with a maximum of five people will be allowed from March 8. Book stores as well as florists and gardening outlets can also reopen if they adhere to strict hygiene and distancing rules.
Other stores could resume business on a regional basis once the seven-day incidence rate falls below 35 and stays there. The rate edged down to 64.0 on Wednesday but has been stuck around that level for about three weeks, according to the RKI public health institute.