Merkel Bloc Heads for Risky Decision on Chancellor Candidate
(Bloomberg) -- Angela Merkel's conservative bloc is poised to pick the winner in a two-man showdown over its candidate to succeed her as German chancellor.
The Christian Democratic Union and its smaller Bavarian sister-party, the Christian Social Union, are holding separate leadership meetings Monday. They will help determine whether the contest is resolved amicably or results in a contested nomination, which would be unusual for an alliance that's underpinned German political stability.
CSU head and Bavarian state premier Markus Soeder on Sunday joined the race as a rival to Armin Laschet -- the CDU chairman and premier of North Rhine-Westphalia -- in a heated contest that could be settled within the next few days.
The winner will have a strong chance of taking over from Merkel after she steps aside following September's national election. They would inherit a raft of challenges, ranging from dealing with the fallout from the coronavirus pandemic and shaping Germany's relations with its European and NATO partners, to tackling the threats posed by China and Russia.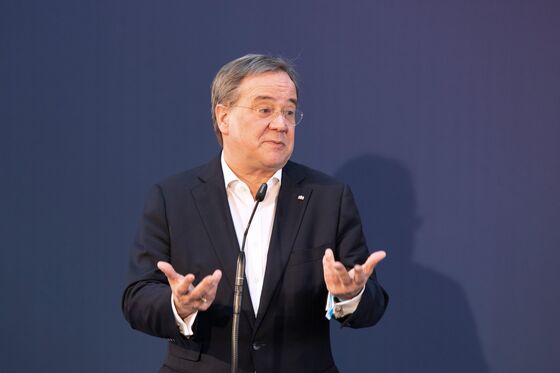 In a first step, CDU national leaders in Berlin are likely to support Laschet's candidacy. The CSU's response -- potentially a Soeder endorsement -- will come a few hours later from Munich. If Merkel's party formally anoints a nominee and the Bavarian party declines to support that person, the 245-member joint parliamentary caucus of the two parties could have the final word as soon as Tuesday.
"It's clear that the CDU leadership backs its chairman," Tobias Hans, the premier of Saarland, told reporters Monday in Berlin as he arrived for the meeting.
CDU-CSU caucus leader Ralph Brinkhaus said in an interview with ARD television that he wants a decision to be made this week so that the conservative bloc can forge ahead with its election campaign.
Peter Altmaier, the CDU economy minister and a close Merkel ally, suggested the process could take a bit longer, saying he hoped for a "really good solution in the next eight to 10 days."
"We want to get this decided quickly as there are so many problems we have to solve, from the coronavirus to the state of the global economy," Altmaier told broadcaster n-tv.
Throwing the decision to the caucus would favor Soeder, since he's more popular with voters than Laschet and CDU-CSU lawmakers have seen the bloc's poll numbers decline in recent weeks as Covid-19 made a resurgence.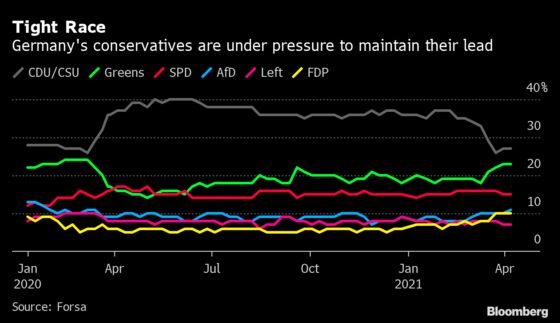 Soeder played up polls suggesting he's more popular than his opponent, saying it's important that the conservative candidate has broad backing among party members and the general public.
Merkel, 66, won't run for another term and her exit has opened the field for who will lead Europe's biggest economy. She hasn't taken sides in the race, even though Laschet is from her party.
"Our goal at this time, with a chancellor who is leaving office, is to foster as much unity between the CDU and CSU as possible," Laschet told reporters. "There's a lot at stake. Europe is watching how Germany develops."
The CDU and the CSU traditionally field a joint candidate for chancellor. Soeder's entry signals a gloves-off contest between two sister parties whose alliance has been a bedrock of German politics since the end of World War II.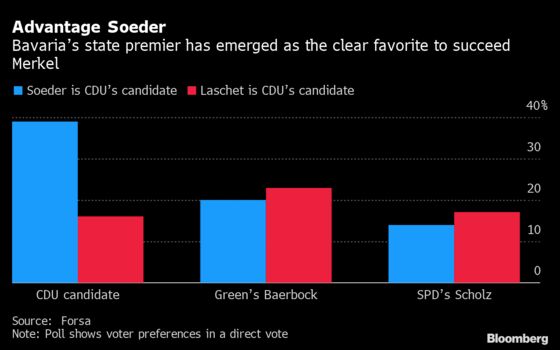 While Merkel and Soeder clashed during Germany's 2015 refugee crisis, he has backed her push for restrictions during the Covid-19 pandemic. Laschet, meanwhile, was criticized by Merkel for a lax response in his home state.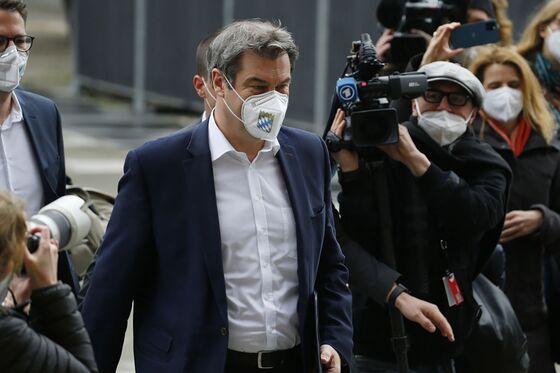 "We determined that both of us are suitable and both of us are ready," Soeder told reporters after Sunday's meeting. "Whatever the decision turns out to be, we will work very well personally together."
On Sunday, both candidates signaled support for quick approval of Merkel's planned changes of Germany's infectious-diseases law, which would shift some powers to the federal government from the states. Other regional leaders have demanded changes to the draft law.
National polls put support for the CDU-CSU at between 26% and 28%, compared with almost 33% of the vote in the last election in 2017. The Social Democrats, Merkel's coalition partner at the national level, have also declined. The Green party, which took 8.9% last time, is polling as high as 23%, increasing the chances that it'll be part of the next government.
While approval polls favor Soeder over Laschet, only two candidates from socially conservative Bavaria have run for chancellor since 1980 and both lost.