Scholz Warns Putin Off Invading Ukraine, Skirts Pipeline Issue
(Bloomberg) -- German Chancellor Olaf Scholz said a Russian invasion of Ukraine would trigger reprisals, the latest warning to President Vladimir Putin from Western leaders, though he declined to specify if halting the Nord Stream 2 gas pipeline would be part of any response.
An attack would be a "very dramatic violation of the rules which would have very different consequences," he said in an interview with ZDF television on Wednesday, responding to a question about whether Germany would stop the contested gas link with Russia. Scholz was sworn in earlier Wednesday as chancellor.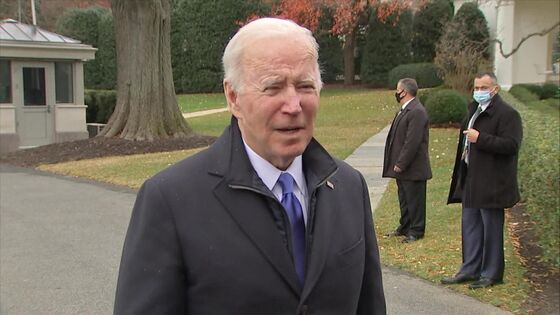 The U.S. is pushing Berlin to stop Nord Stream 2, which is awaiting certification by Germany, in the event Russia invades Ukraine, people familiar with the matter said this week. 
Questions remain though whether the White House can get the new German government over the line on such a commitment. While talks are underway, there are mixed signals on how much they have progressed.
Two U.S. officials, who asked not to be identified discussing private deliberations, said they believe they've secured agreement from Germany to halt the project -- or cut off gas flows, if the pipeline has started operation -- in the event that Putin pushes into Ukraine. They pointed to a July deal in which Germany agreed to "take action at the national level and press for effective measures at the European level, including sanctions" if Russia commits further acts of aggression against Kyiv.
Still, Germany under the prior administration of Angela Merkel maintained that Nord Stream 2 was a commercial entity and not a political tool, a stance that may be replicated under her successor as his Social Democrats have backed the project previously. U.S. negotiators have yet to secure a firm agreement to put Nord Stream 2 on the table, according to another official familiar with the talks between Washington and Berlin.
The new element in the mix could be the German Green party, which is vocally opposed to Nord Stream 2. As a member of Scholz's coalition government the Greens now control two key ministries -- energy and foreign policy -- that have leverage in any decision on the pipeline. 
U.S. Deputy Press Secretary Karine Jean-Pierre said on Wednesday the White House has had conversations with both the previous and new administration in Germany on Nord Stream 2 in terms of a potential Russia move on Ukraine. 
"I'm not going to get into private diplomatic discussions other than to say this is an important priority for the Biden administration," she said. 
Russia has deployed more than 100,000 troops on its borders with Ukraine, as well as tanks, artillery and other heavy equipment. U.S. intelligence suggests the Kremlin has prepared a plan for an offensive against Ukraine beginning as soon as early 2022 with as many as 175,000 personnel. Putin has said he has no plans to invade, but he wants NATO to stop what he has called encroachment on Russia's western periphery. 
Scholz said the focus is on de-escalating tensions and avoiding military action. 
"It is our task now to clearly describe what we want and what we need to do to actually prevent this from happening," he told ZDF. 
Merkel's government pledged in the July agreement with the U.S. to take bilateral and European Union-level action if Putin deploys energy resources as a "weapon." While those measures could involve sanctions targeting Russia's energy sector, the Germans have had no intention previously of halting Nord Stream 2.
Despite a heightened awareness of the threat level posed by troops massed on the Ukraine border, that position hasn't fundamentally changed, the official said. 
Asked later on ARD television if Germany would specifically include Nord Stream 2 in any response to a Ukraine incursion, Scholz again only answered in general terms. "Such a situation must have clear consequences, everyone should know that," he said.