Germany's Recovery Stumbles With Forecast Cut on Extended Curbs
(Bloomberg) -- Germany's recovery from the coronavirus pandemic will be slower than expected, as extended restrictions hit activity.
Chancellor Angela Merkel's government now expects gross domestic product to expand by 3% in 2021, according to its updated outlook. That's down from a 4.4% prediction in October -- before the latest curbs on businesses and people were imposed.
"The recovery will continue in 2021, albeit with less momentum," Economy Minister Peter Altmaier said on Wednesday. "The situation is still serious, and the danger of virus variants hasn't been overcome. We therefore can't rashly put at risk what we've achieved."
After a 5% contraction last year, Germany forecasts a return to pre-pandemic levels in mid-2022 -- roughly six months later than the government's previous projection. The prolonged recovery has sparked a debate about debt spending, a sensitive topic that will likely play a role in national elections in September.
Increased borrowing to prop up Europe's largest economy will likely increase the government's deficit to 7% of GDP this year, boosting the debt ratio to about 72.5% of national output, according to the government's report. Debt levels are expected to shrink to less than 69% of GDP in 2024.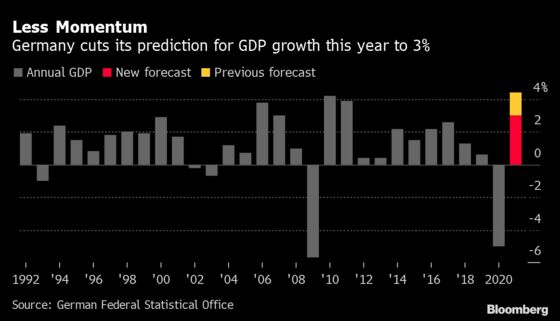 Helge Braun, Merkel's chief of staff, roiled conservative allies on Tuesday by proposing that constitutional debt limits be altered to allow more borrowing to help offset the impact of the pandemic. While the plan was swiftly rejected by Merkel's bloc, it highlights the tension facing authorities as they plot their way out of the crisis.
Merkel and the leaders of Germany's 16 states have gradually tightened restrictions since November. The curbs now include closing non-essential stores, limits on private gatherings and restrictions on movement in hard-hit areas. The current package of measures will run until at least Feb. 14.
Amid concerns about faster-spreading mutations, there are no signs that the lockdown will be eased soon. Merkel has repeatedly said that the contagion rate needs to fall to a manageable level, and while the number of infections per 100,000 people over seven days is coming down, it's still double the government's target.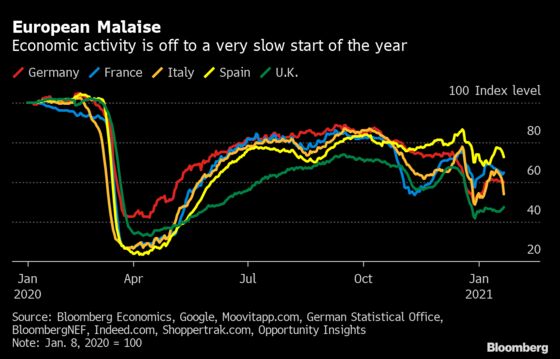 The forecast downgrade reflects deteriorating prospects across the euro zone as the bloc heads for a double-dip recession. Germany has fared better than many of its neighbors, in part thanks to generous government support, but is struggling with business disruptions and concern over vaccine shortages.
The German economy showed divergent signs with manufacturing robust, while services are being hit hard, Altmaier said. He added that the government will continue to support companies affected by the pandemic and invest in future industries such as hydrogen energy and artificial intelligence.
Europe is now starting to follow the familiar script of lagging its international peers when recovering from a crisis. That was the upshot of the International Monetary Fund's forecasts on Tuesday, which downgraded the growth outlook for 2021 across Europe and underscored a generally poorer performance compared with China and the U.S.
Europe's rebound largely hinges on vaccination programs, which have gotten off to a sluggish start. The tensions have sparked a spat between the European Union and drugmaker AstraZeneca Plc, which has said production issues will hit deliveries to the bloc of a Covid-19 shot that could be recommended this week.
Merkel waded into the dispute on Tuesday, hinting at potential retaliation against the U.S. efforts to restrict vaccine trade after Health Minister Jens Spahn proposed export limits for shots produced in the EU.