Europe Faces Mounting Vaccine Pressure as German Deaths Jump
(Bloomberg) -- Germany's daily coronavirus deaths surpassed 1,000 for the first time since the beginning of the pandemic, underscoring the urgency facing Europe's leaders to slow the spread and roll out vaccines.
There were 1,122 fatalities in the 24 hours through Wednesday morning, according to data from Johns Hopkins University. Along with the mounting death toll, the number of Covid-19 patients in German intensive care units has risen steadily, prompting warnings that the health-care system could become overburdened.
Europe has become an epicenter of the pandemic, with more than 400,000 coronavirus-related deaths and 16.2 million infections. On Tuesday, the European Union agreed to trigger an option to buy an extra 100 million doses of the shot developed by Pfizer Inc. and BioNTech SE.
Vaccines from other producers will follow once they've been approved, European Commission President Ursula von der Leyen said on Twitter.
Germany joined its EU partners in rolling out vaccinations last weekend, but officials have said it will take months for the program to have a tangible impact on contagion rates. Europe's largest economy has so far inoculated more than 78,000 people, according to data from the RKI public health institute.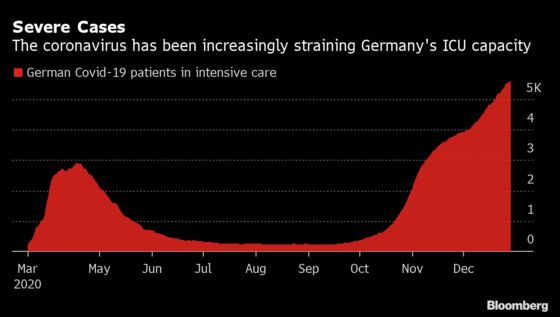 The rise in Germany's fatalities comes as Chancellor Angela Merkel's government considers extending a hard shutdown that was imposed in December. Schools and non-essential stores remain shuttered until Jan. 10, but senior politicians have urged prolonging at least some of the measures.
"The numbers show how brutal the attacks of this virus still are, but they also show that we're still far from a normality as we would like it," Health Minister Jens Spahn said in Berlin on Wednesday. "I don't see how we can return to a pre-lockdown mode, as difficult as it is."
Karl Lauterbach, a health expert for the ruling Social Democrats, warned that if the virus numbers aren't slashed to around 25 per 100,000 people over 7 days, the risks will multiply. The current figure is 141. Speaking on ZDF television, he said that more vaccines needed approval to meet goals of widespread availability by the summer.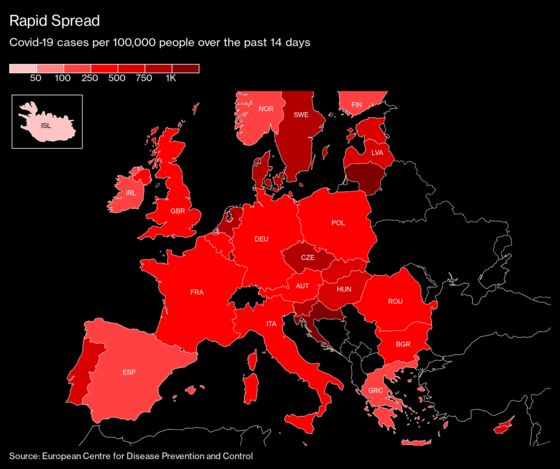 "We are in the middle of a serious wave, and this is questioning the recovery -- at least it has stopped the recovery," Clemens Fuest, president of the Ifo Institute, said in a Bloomberg TV interview, adding that he expects lockdown measures to remain in place until March.
While some countries in the region are gradually relaxing measures to contain the virus, others are still tightening curbs. Ireland's government is set to announce new restrictions on Wednesday. Among the measures under consideration are the closure of non-essential retail and the reintroduction of a five-kilometer (three-mile) limit on travel from home. Bars and restaurants have already been shuttered.
Authorities are also grappling with ways to ensure widespread uptake of the Covid-19 vaccine. In Italy, where restrictions were severely tightened for most of the Christmas period, cases and deaths have declined sharply from the highs recorded in November. However, concerns are growing over delays and mishaps in the vaccination campaign.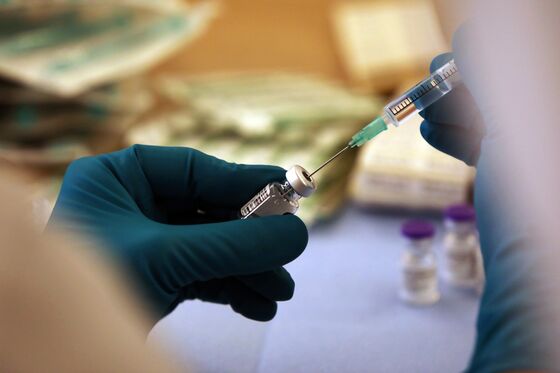 Around 8,000 people have received the first dose of the Pfizer-BioNTech vaccine so far, and the country is behind schedule in hiring personnel and preparing the logistics for mass inoculation.
Italian Prime Minister Giuseppe Conte pleaded for patience as the country ramps up efforts to get as many as 15 million citizens vaccinated by April.
"That's when we will see the first real results of our vaccination campaign," he said Wednesday at his year-end press conference.
France is having even less success in the face of strong anti-vaccination sentiment. Just over 130 people in the country of 66.7 million have been given a shot since the start of the deployment on Sunday, according to the government.
Health Minister Olivier Veran defended the step-by-step approach as the right way to reach the government's target of administering 1 million doses by the end of February.
Some experts disagree, saying the cautiousness fuels concerns about safety. Philippe Amouyel, an epidemiologist from the Lille public hospital, urged the government to accelerate its campaign and give shots to health workers too rather than just elderly people secluded in homes.
Critics are also questioning the logistical preparation with some super refrigerators for vaccines arriving only this week, a deployment that Germany started over a month ago.