Germany's Likely Finance Chief Hints He Might Not Be Too Hawkish
(Bloomberg) -- Christian Lindner, who is billed as Germany's likeliest next finance minister, signaled that he wouldn't necessarily be confined by his party's fiscally-conservative positions amid needs for the country to invest.
The pro-business Free Democrats, which campaigned on reducing Germany's borrowing and conforming with constitutional debt limits, also recognize the need to upgrade Germany's digital economy and education system, Lindner said at a conference on Wednesday.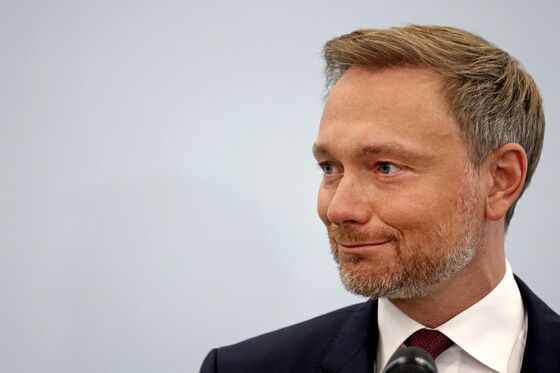 "A finance minister Lindner would not be a finance minister of the FDP, but of the Federal Republic of Germany," Lindner, the party's chairman, told an economic conference sponsored by Sueddeutsche Zeitung. He responded to a question about how confined he would be in a coalition government with the Social Democrats and Greens, which have called for more spending. 
The SPD, Greens and FDP are in the final stage of assembling a three-way coalition government that would install Social Democrat Olaf Scholz as Angela Merkel's successor as chancellor. Financing and climate ambitions have been some of the biggest hurdles to an agreement, which the parties aim to finalize next week. 
Lindner cited "difficult, tough" talks to form a government. He campaigned on taking the job as finance minister, though cabinet posts won't be distributed until the end of coalition negotiations, with the Greens signaling they also want the role. 
Even as he pushed back on the notion that he would be a fiscal hawk, Lindner said he was committed to European Union debt restrictions embedded in the bloc's stability-and-growth pact. The rules on public spending have proven to allow sufficient flexibility to weather economic crises and don't need to be altered, he said.