Germany's $400 Billion Pension Fund Eyes Capital Markets Boost
(Bloomberg) -- Germany's future government plans to let the country's pension system invest in the capital markets for the first time in what would be a small revolution in how Europe's largest economy manages money for its growing ranks of retirees. 
Negotiators for the Social Democrats, Greens and the market-oriented Free Democrats are seeking to hammer out details that would allow the $400 billion pension system to start investing some of its reserves into stocks and bonds, which would bring it more in line with other advanced economies. 
The potential ruling coalition would bolster the system's resources with 10 billion euros ($11.6 billion) "as a first step," according to a statement tucked inside the 12-page political roadmap agreed last month by the three parties. 
While details are still tentative, any capital for investments would be small enough to be palatable for all three parties and avoid public concerns over a more aggressive overhaul, according to people familiar with the negotiations. 
Germany's pension system doles out the equivalent of about 10% of the country's annual output and is currently financed by taking a slice of workers' wages, with the state making up any shortfall. The system is badly in need of reform as the population ages.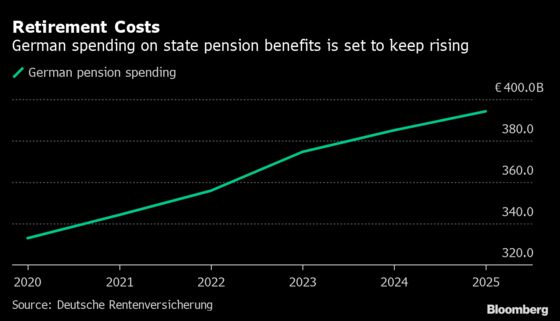 Olaf Scholz, who is in pole position to succeed Angela Merkel as chancellor, campaigned on maintaining Germany's retirement age and securing pension benefits. That puts a lot of momentum behind efforts to prop up the system.  
Germany's pension insurance scheme, known as Deutsche Rentenversicherung, collected about 328 billion euros last year from workers and then paid out 333 billion euros to pensioners, according to its website. Spending is projected to rise to 394 billion euros in 2025. 
Investing even a small portion of pension reserves would break a taboo for Germany's risk-adverse approach to managing money and bring the country closer to the likes of Norway and Canada, which have state-run funds that buy stocks and bonds to generate returns to bolster retirement reserves.
Germans are generally suspicious of capital markets, and the country has one of the lowest rates of household stock ownership in Europe. But the prospective government is intent on finding ways to help offset inflation.
One model coalition representatives have been looking into is KENFO, a foundation set up in 2017 to support the exit from nuclear power, said the people, who asked not to be identified because the talks are private. 
Germany's largest foundation under public law -- funded by a one-off payment of 24 billion euros from power companies -- invests in bonds, equities and other assets to cover future costs for storing radioactive waste.
Some lawmakers and government advisers in Berlin are even comparing the initiative to a German sovereign wealth fund, though most eschew the term because of the different strategic rationale and to avoid the stigma associated with such investment vehicles, the people said.
The three-party coalition is scouting for creative ways to bolster public finances as it targets massive investments in climate protection and infrastructure without violating constitutional debt limits. One potential lever is state holdings in Deutsche Telekom AG and Deutsche Post AG, which together are worth almost 40 billion euros at current market values.
The SPD and the Greens declined to comment, while representatives for the FDP couldn't be immediately reached for comment.
The FDP has been championing the idea of putting some pension money into stock markets for some time, including in a study published in February. They suggest replicating the Swedish model, where citizens put a small part of their mandatory pension contributions into equity funds. 
The SPD and the Greens are more cautious, and no agreements have been finalized. The three parties are seeking to hammer out details in the coming weeks and have a new government sworn in by early December.