Germany Ready to Spend $6 Billion to Clean Up Steel Production
(Bloomberg) -- Germany will spend an additional 5 billion euros ($6 billion) to slash emissions from the steel industry as it intensifies efforts to hit increasingly stringent climate goals.
Europe's biggest economy will spend the money to support steelmakers' hydrogen production projects and other research programs, Economy Minister Peter Altmaier said Monday following a meeting with representatives from the German steel industry. The funds will also aid the construction of infrastructure needed to smooth the conversion to low-emission metal production.
"Steel is a key industry for Germany," Altmaier said. "At the same time, it has a special role in efforts to reduce emissions because it is the biggest industrial emitter of greenhouse gases."
Steel is one of the industrialized world's essential materials, used in automobiles, wind turbines and everyday household items from washing machines to furniture. But it's also a major contributor to global warming. Producing one ton of steel emits around 1.85 tons of carbon dioxide. Overall, the industry is responsible for about 8% of the world's annual emissions, according to the World Steel Association.
Germany will need to invest more than 35 billion euros by 2050 to slash the sector's greenhouse gas emissions, Altmaier said. The government is prepared to offer subsidies up to the maximum allowed under EU state-aid rules in order to green the industry, he added.
Steel producers have made some progress in cutting carbon emissions by improving plant efficiency, but much of the low-hanging fruit has now been plucked. Germany's politicians are betting even deeper emissions cuts can be achieved and help secure 800,000 jobs in the heavy industries that have underpinned the country's industrial might for the past two centuries.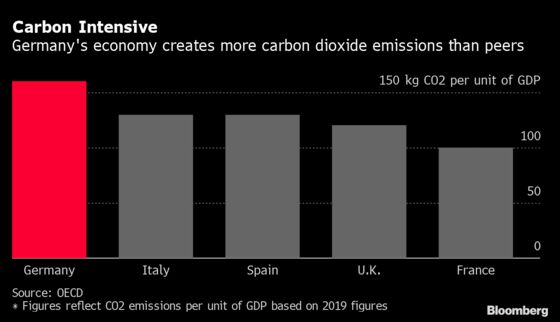 Cleaning up steel requires a structural shift like using hydrogen instead of coal to heat furnaces. That would vastly increase production costs, according to Bloomberg New Energy Finance. Thyssenkrupp AG, Germany's largest steelmaker, has said it will cost around 10 billion euros to convert its mills to hydrogen production.
"The steel industry has made it clear that it's prepared to make an important contribution to climate neutrality," Altmaier said. "However, this won't be viable financially without help from the state."