Germany Rations Covid Vaccine Doses Amid BioNTech Shortage
(Bloomberg) -- Germany is rationing Covid-19 vaccines through the rest of the year as the country seeks to keep a booster campaign going amid a surprise shortage of shots.
The country has about 3 million doses of the BioNTech SE vaccine and is spreading them out over the next three weeks, Health Minister Karl Lauterbach said late Wednesday on ZDF television. It has about 10 million Moderna Inc. shots, which is likely sufficient to cover demand, he said. 
"For such a successful booster campaign, the vaccines aren't enough," said Lauterbach, a Harvard-educated medical expert who took office last week. "I'm working intensively on procuring more." 
He said he's in contact with Eastern European countries and is seeking to buy unused doses from them. He has also said he's seeking fresh supplies directly from vaccine manufacturers. German parliament's budget committee approved 2.2 billion euros ($2.5 billion) to buy 92 million additional vaccines, according to the new health minister.
Germany has administered over 20 million Covid shots since it kicked off a booster campaign in mid-November, according to data from the RKI public-health institute. The goal through the end of the year is 30 million, and the shortage of BioNTech vaccines is a particular problem. The shot, developed by the Mainz-based company, has accounted for 71% of all booster shots administered in Germany, RKI data show.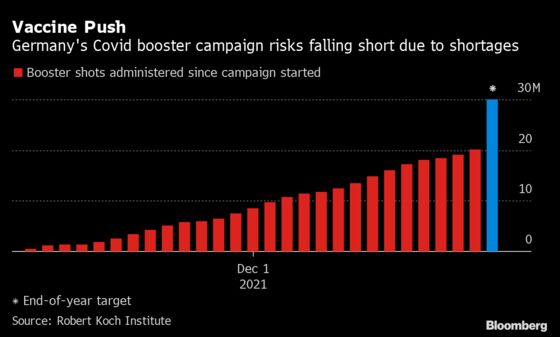 Lauterbach has said third shots are key for ending the current wave of the pandemic and heading off the risk posed by the new omicron strain. The country is also seeking to ramp up a program to inoculate children against Covid. 
After hitting a record in late November, Germany's infections have gradually receded. On Thursday, the number of cases declined to 340 per 100,000 people over the past seven days. While that's the lowest in about a month, it's double the spring peak.
The country's vaccine campaign has been less successful than in other developed nations, with just 69.8% of the population fully inoculated as of Wednesday. That compares with almost 80% in France and nearly 75% in Italy, according to the Bloomberg Vaccine Tracker.
The pace has picked up in recent weeks, as already-vaccinated people seek boosters. More than 1 million people have rolled up their sleeves on some days, but there remains strong resistance to inoculations. Chancellor Olaf Scholz on Wednesday said extremist opposition to vaccines and other measures to contain the pandemic pose a risk to democratic society.
Scholz has backed the introduction of mandatory vaccinations by the first quarter of next year, and the lower house of parliament is expected to vote on it in coming weeks. The supply shortage threatens to undermine that strategy.