Germany Paves Way for Broad Economic Restart With Virus Tamed
Germany is taking its biggest step yet to ease coronavirus containment with preparations to open restaurants and all shops as well as to restart professional soccer games.
Although many lockdown measures are being gradually phased out, social-distancing rules were extended until at least June 5, and restrictions may be reinstated locally if hot spots emerge. Chancellor Angela Merkel urged Germans to stick to limits on public contact to stem the risk of a second wave of infections.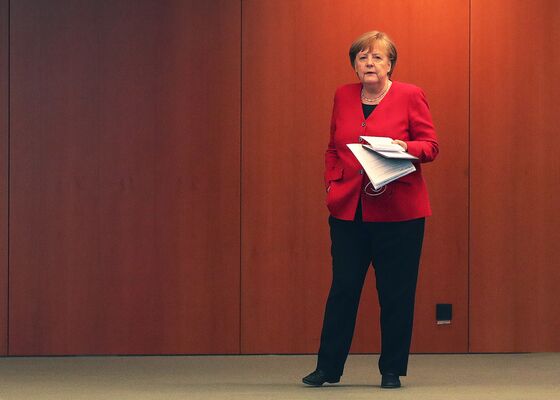 "We can say today that we have the very first phase of the pandemic behind us," Merkel said on Wednesday after talks with leaders of Germany's 16 states, urging people to abide by rules as the fight continues. "We must be careful that things don't derail."
Under the plan, regional authorities will be given greater leeway to decide the pace of the moves. The approach confirms what was happening in practice already as some state leaders jumped the gun with their own plans.
Bavaria's Markus Soeder set the tone on Tuesday, announcing that larger shops and malls can reopen from next Monday in the southern state, with restaurants following on May 25 and hotels from May 30.
The measures include plans to allow hotels, movie theaters and tattoo parlors to resume operations. Late last month, some small shops, hardware stores and car dealerships were allowed to resume trading, while this week hairdressers reopened and schools have restarted for some students.
Post-Lockdown Road Map
All shops can resume with restrictions on numbers
Restaurants, hotels can reopen starting May 9 with hygiene and other measures
School students to be allowed back in stages before the summer vacation
People in one household can meet up with people in another household
Childcare offerings will be expanded starting May 11
Professional soccer to return in the second half of May
Cinemas and theaters can reopen under certain conditions
States will be free to decide on further steps, including allowing trade fairs, fitness studios and night clubs
Large events such as music festivals and street fairs will like remain prohibited until at least Aug. 31
Merkel, who has pushed for a cautious approach, has been under pressure to speed up the country's exit from the curbs that brought business activity in some sectors to a virtual standstill. The economy is forecast to shrink by 6.3% in 2020, more than even during the financial crisis a decade ago, according to government projections.
Even with the opening, businesses will continue to be under pressure, according to Eric Schweitzer, president of the DIHK business lobby.
"An initial restart doesn't mean that companies will be able to let loose after almost two months of shutdown," he said in a statement. "Because of increased health protections, they have significantly more effort, higher costs and, at the same time, less sales for a long period of time."
The chancellor reaffirmed that Germany plans to come up with a plan to revive Europe's largest economy, which will be discussed in early June.
"First we will have to see which sectors won't have a chance for a longer time to come back," she said. "It's not like you can only talk about a restart of the economy if the government gives more money. We will indeed need a stimulus program, but the initiative must come from the companies."
Germany has won praise for its swift response to the pandemic and is following countries like Austria and Denmark -- similarly successful in containing the virus -- in reactivating the economy. Nations including Italy and Spain that were much harder hit are likely to take longer to return to some semblance of normality.
The number of new coronavirus cases in Germany rose Wednesday for the first time in six days, according to data from Johns Hopkins University, but the contagion rate has continued to decline.
Restaurants in Germany can welcome customers for the first time in weeks starting as soon as Saturday, but they will need to make sanitary provisions, allow for sufficient distances between patrons and take steps to protect their staff from infection.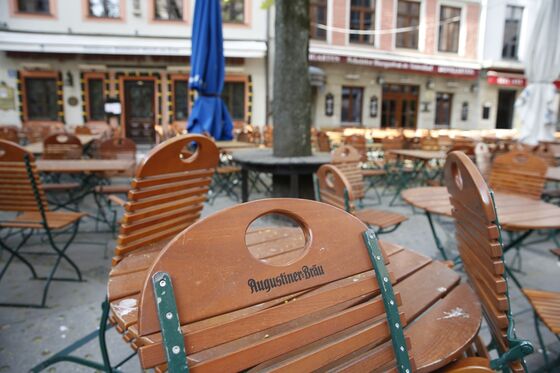 Similar rules will be in place for schools and other businesses, and Bundesliga soccer matches will be held beginning in the second half of May -- most likely without spectators.
Alongside its easing steps, Germany tightened criteria on when curbs would be reinstated. If there are more than 50 new weekly infections per 100,000 inhabitants in a given region, then local restrictions would need to be implemented to prevent the disease from spreading.
"If infections go up somewhere, then we have an emergency mechanism and then the entire country doesn't have to go back, but only individual regions," Merkel said. "Every measure of freedom needs to be used by every individual responsibly."