Germany Loosens Travel Rules as Covid Vaccinations Ramp Up
(Bloomberg) -- Germany loosened travel rules to allow people fully vaccinated against Covid-19 to enter the country without needing to get tested or go into quarantine.
The rules, which also apply to those who have recovered from the virus, were approved by Chancellor Angela Merkel's cabinet on Wednesday.
One-third of German residents have received at least one dose of a Covid vaccine, and nearly 10% have been fully inoculated. As the pace ramps up, Germany has granted more privileges to people immune from the disease, including easing trips to hairdressers.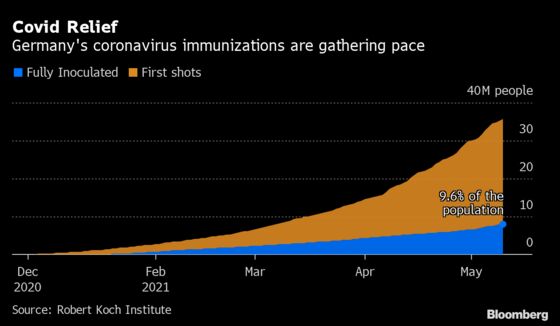 The looser restrictions come as Germany shows signs of containing a third wave of the pandemic. On Wednesday, infections over the past seven days fell to 107.8 per 100,000 people, the lowest in more than a month after peaking near 170 in late April.
The new travel rules don't apply for high-risk regions, where faster-spreading mutations are present, Health Minister Jens Spahn said at a news conference.
He said there is "optimism" due to the falling infection numbers and the accelerating vaccination drive, but warned against "excessively high spirits" because the incidence rate is still too high.