German Businesses Have Had Enough of Merkel's Go-Slow Virus Opening
(Bloomberg) -- Chancellor Angela Merkel's government aims to establish a fund to help German companies threatened with collapse, part of an effort to defuse mounting tension over the sluggish reopening of Europe's largest economy.
After listening to the grievances of dozens of business lobbies on Tuesday, Economy Minister Peter Altmaier said he would lay out a path for easing lockdown measures. The goal is to have proposals for many sectors in time for a meeting between Merkel and Germany's state leaders on March 3.
"There have been complaints backed by very solid and justified arguments that the uncertainty is among the most difficult things to deal with," Altmaier said in Berlin after the video conference.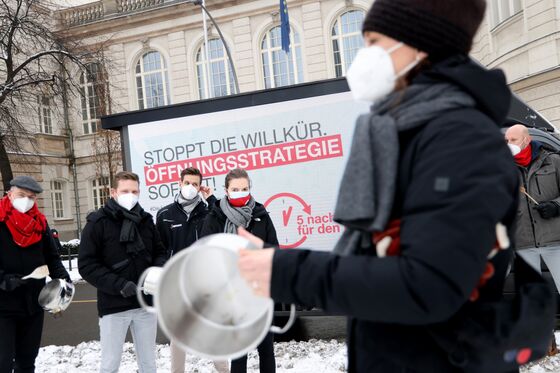 While German business has largely backed the pandemic response, frustration boiled over after authorities last week balked at laying out a plan to unwind closures of hotels, restaurants and most stores. Hard-hit firms have also accused the government of botching aid payments and causing unnecessary delays in distributing the cash.
"The despair is growing, and it's increasingly leading to anger," Guido Zoellick, head of the German hotel and restaurant association, said after the meeting.
Outside Altmaier's ministry, a group representing young entrepreneurs gathered in central Berlin to call for "courageous decisions" to reopen the country.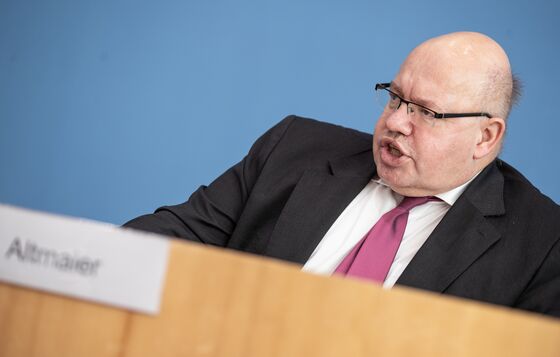 The so-called hardship fund will receive 1.5 billion euros in federal government money, according to people familiar with the plan. The fund is designed as a backstop for cases where other programs don't work properly, Altmaier said. In such instances, states can use their financial muscle to help foster fairer distribution of aid.
"Very good talks" are ongoing with the finance ministry, he said, adding that results could be announced within coming days. "We are determined to keep adjusting the aid measures to the evolving situation," Altmaier said.
While Merkel and state premiers agreed to loosen restrictions on schools and hairdressers, next steps were made more difficult because of concerns about fast-spreading variants.
Starting March 7, non-essential stores will be allowed to resume operations only if the local seven-day incidence rate doesn't exceed 35 for at least three consecutive days. The previous target for easing curbs was 50 infections per 100,000 people over seven days. Meanwhile, no plan was put in place to reopen restaurants, hotels and leisure facilities.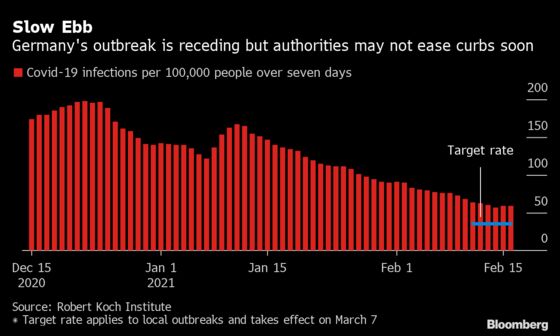 "From our point of view, after the long lockdown phase, the measures are neither differentiated, appropriate nor proportionate," Josef Sanktjohanser, head of Germany's retail association. "In addition to the lack of opening perspectives, many retailers despair that the aid will pass them by."
In further evidence of the economic impact of the pandemic, data published Tuesday showed that the number of German manufacturing jobs fell by 2.2% last year. It was the first annual decline since 2010, when the financial crisis was reverberating across Europe and the country's industrial workforce shrank by 2.4%.
What Bloomberg Economics Says

"We expect a near 3% contraction in 1Q. Substantial fiscal and liquidity support is still in place and as a vaccine becomes available we expect Germany's economy to rebound swiftly from mid-2Q."

Jamie Rush and Maeva Cousin. To read the full report, click here
Lockdown tensions threaten to undermine confidence and spur a political backlash ahead of September elections. Merkel's Christian Democrats have yet to decide on a candidate to run to succeed her, while Finance Minister Olaf Scholz, who is leading the ticket for the Social Democrats, has increasingly shifted into campaign mode.
CDU chief Armin Laschet -- one of the leading contenders to become the conservative bloc's chancellor candidate -- took a swipe at Merkel's approach, saying too much was dependent on the incidence rate. "You can't keep inventing new limits" to prevent life from returning to normal, he told a party event, according to the Bild newspaper.
Delays in financial aid have stoked further discontent. Many firms were pushed to the brink as they waited until this month for support to offset the impact of lockdown measures introduced in November.
The holdup stemmed from last-minute requests from industry groups -- including the reimbursement for perishable seasonal goods -- but the money is flowing now. Latest figures show that 6.1 billion euros ($7.4 billion) have been paid out -- 1 billion more than a week ago, Altmaier said.
Despite the growing criticism, the long-time member of Merkel's cabinet pleaded for understanding, saying policy makers have to strike a responsible balance between reactivating the economy and preventing another surge in Covid-19 cases.
"The economy can't flourish if we get a third wave of infections," he said in an interview with ARD television before the talks. "So everything must be geared toward an opening of the economy that at the same time avoids the kind of dramatic situation we have seen in countries around us."