Tighter German Lockdown Looms as Virus Rates Remain High
(Bloomberg) -- Germany is looking to impose tougher measures to contain the coronavirus pandemic after a soft shutdown failed to bring contagion rates down to manageable levels.
Chancellor Angela Merkel on Monday told legislators in the CDU-CSU parliamentary caucus that the current, partial lockdown is insufficient and needs to be revised with the heads of the country's 16 states, according to a person with knowledge of the discussions who asked not to be named because they were private.
Merkel wants a meeting as early as this week and her proposals include shutting down retailers after Christmas until at least Jan. 3, Bild newspaper reported on Monday.
Germany shut restaurants, gyms and cinemas, but allowed schools and most of the economy including shops to keep running as it tried a softer approach than other European countries. The measures -- in place since the beginning of November -- have made little impact on the spread of the disease, even as the government spends more than 15 billion euros ($18 billion) a month to compensate affected businesses.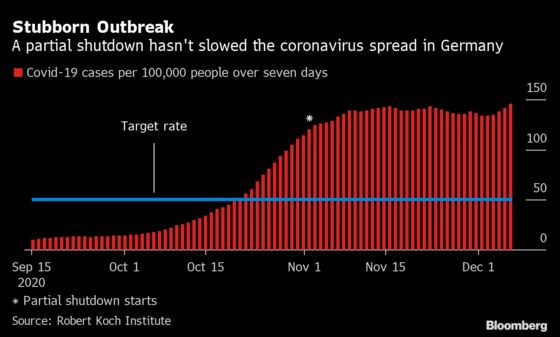 The nationwide seven-day incidence rate currently stands at a record of 146, compared with 120.1 at the start of the restrictions on Nov. 2, according to the Robert Koch Institute. The government's goal is to lower the level to less than 50. Schleswig-Holstein in the north and Mecklenburg-Western Pomerania in the east are the only German states under that level.
Merkel's proposal to shut down all retailers with the exception of supermarkets and other food stores after Christmas is likely to face stiff opposition from business leaders and local politicians. It comes after demonstrators have repeatedly taken to the streets in recent months to protest against restrictions on civil liberties during the pandemic.
The so-called reproduction factor, an indicator of how fast the virus is spreading, rose to 1.21 on Sunday, compared to 1.13 the day before. This means that 100 people with the virus will likely infect 121 others. The government has said a level below one is needed to prevent the illness from overwhelming hospitals. The number of Covid-19 patients in intensive care has been at record levels for weeks.
Ralph Brinkhaus, head of Merkel's CDU-led parliamentary caucus, earlier cautioned of relaxing contact and socializing rules during Christmas and New Year's. "That is highly risky," he said.
"Corona isn't letting go and therefore we need to react," Markus Soeder, Bavaria's premier, said on ARD television on Monday. "I'm sure we'll meet again before Christmas. The current system isn't enough."
The home state of Siemens AG, BMW AG and Adidas AG will implement a state of emergency on Wednesday, restricting most people to their homes unless they have a valid reason. In communities with a seven-day incidence of more than 200, there will be a curfew from 9 p.m. to 5 a.m. with even fewer exceptions.
Government Spokesman Steffen Seibert praised Bavaria's move and said it is necessary for states to take additional measures to help bring down the virus numbers.