Merkel Tightens Curbs as Deaths Rise Most Since Pandemic Began
(Bloomberg) -- Chancellor Angela Merkel extended and tightened coronavirus restrictions, intensifying Germany's efforts to check the disease as deaths rose by the most since the pandemic began.
After a video call that dragged late into Tuesday night, Merkel and the premiers of the country's 16 states prolonged lockdown rules -- which include closing non-essential stores and restricting movement in hard-hit areas -- until Feb. 14. Merkel warned that the government might impose border controls without coordinated efforts to guard against risks posed by new strains.
While Germany sharpened select measures, Europe's largest economy stopped short of imposing a national curfew like in France, even as hundreds continue to die from the disease each day. The number of fatalities increased by another 1,734 people in the 24 hours through Wednesday morning to 48,997.
"We don't have all the time in the world to act," Merkel said at a news conference after more than seven hours of tense discussions. "We need to act now" to prevent the risks posed by virus mutations.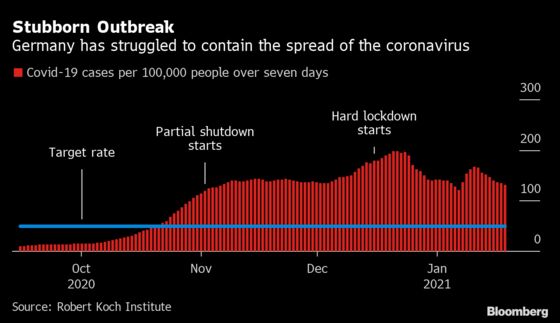 Merkel pushed for tougher curbs, but some state leaders resisted. With infections recently declining in some areas and enforcement of existing measures lax, there was little appetite to risk voter dissatisfaction ahead of regional and national elections in the coming months.
Schools were particularly contentious. While Merkel wanted them completely closed, looser rules were extended. The call was brought forward by almost a week after the chancellor warned that faster-spreading strains could cause a surge like in Britain and Ireland.
Germany's contagion rate remains more than double a government target, despite weeks of stringent curbs, yet there are tentative signs that the infection rate is starting to ease.
Confirmed cases increased by 12,233 through Wednesday morning, a relatively low number compared with recent weeks, according to data from Johns Hopkins University. The seven-day incidence rate per 100,000 citizens has been on a steady decline for a week and is now at 123.5, Robert Koch Institute figures show.
State leaders, which are responsible for health policy, also agreed to make medical face masks obligatory in stores and on public transport. Companies will be required until March 15 to allow employees to work from home where possible.
"We are doing this because we want significantly fewer people to be on public transport, on buses and trains and on the streets," Economy Minister Peter Altmaier said Wednesday in an interview with ARD television. "We have to reduce social contacts if we want to win against this virus."
Merkel extended her tough line to Germany's neighbors, calling on European partners to synchronize measures to contain mutations. Otherwise, travel restrictions would be imposed.
"We have to make sure that all of our neighboring countries are really working in the same direction here," she said, adding that includes European Union partners as well as Switzerland. "If that's not the case, we have to take precautions on travel entry, because we can't let our citizens' efforts be destroyed."
Read more on Bloomberg Economics' outlook for the German economy
Europe has emerged as a global hot spot for the virus, with more than 401,000 fatalities and nearly 17 million infections. The EU is urging member states to do more to track dangerous virus mutations with genome sequencing. Only one is testing more than 1% of samples, while some others aren't sequencing at all.
Ahead of the tighter measures, Merkel's administration expanded aid to affected companies with additional support totaling at least 10 billion euros ($12 billion) in the coming weeks. That includes bridge financing of as much as 1.5 million euros a month and writing off unsold winter goods.
Germany has still fared relatively well compared with its European peers, mainly due to the extensive fiscal support and a large manufacturing sector that is less exposed to restrictions than shops and restaurants.
"If people abide by the measures and stick to social distancing, we have a fair chance," Merkel said.