Merkel Targets Cautious Reopening as Germany's Outbreak Worsens
Chancellor Angela Merkel aims to develop a plan that will pave the way for a cautious reopening of Europe's largest economy, even as infection rates tick up.
Under pressure from a pandemic-weary German public, Merkel told the leadership of her Christian Democratic party on Monday that the next steps will have to be done "smartly" and with more testing, according to a person familiar with the discussions.
She identified three areas for easing: private gatherings, restaurants and leisure facilities, and schools -- which started a tentative reopening on Monday in many states. Reopening stores weren't mentioned.
The prospects for unwinding Germany's lockdown fueled a rise in optimism among businesses in the country. The Ifo Institute's gauge of expectations for the next six months rose to 94.2 in February from 91.5 in January, beating estimates in a Bloomberg survey.
The mood could sour again after the country's contagion rate inched up for three straight days even before the first easing steps in months go into effect. The setback has heightened tensions in Germany's ruling coalition amid growing concerns about aggressive mutations of the virus. Campaigning has also picked up ahead of national elections in September.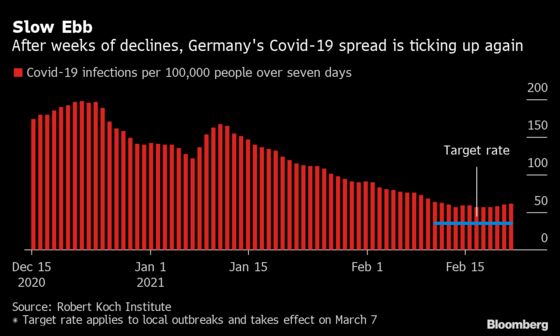 Even without a national strategy on schools, some students in 10 of Germany's 16 states returned to classes on Monday. Hairdressers are set to reopen on March 1. Health Minister Jens Spahn dampened expectations that further steps will follow soon, saying in a television interview late Sunday that authorities will need to evaluate the impact of the moves before considering whether other curbs can be eased.
His comments came as Merkel's junior coalition partner SPD attacked Spahn over the lack of widespread testing. The leading figure in Merkel's CDU has vowed to have free quick tests available by March 1 as well as get self-tests approved by next week.
"With immunizations we've noticed that we can't believe in the announcements from Jens Spahn," Lars Klingbeil, secretary general of the Social Democrats, told the Bild newspaper in a video interview. "I have a bit of fear that we're awaiting the next disappointment" on testing, he said.
Germany's contagion rate ticked up to 61 infections per 100,000 people over seven days on Monday, the highest level in more than a week and the latest evidence that a steady decline since a peak before Christmas has ground to a halt. The government has tied further easing to local seven-day incidence rates of less than 35.
Germany's reproduction factor -- or R value -- rose to 1.25 on Sunday from 1.14 the day before, according to the latest report from the Robert Koch Institute, the country's public health authority. Anything above 1 means the spread is accelerating.
The government's corona cabinet is meeting on Monday to discuss the situation, but a decision on Germany's lockdown isn't likely before March 3, when Merkel and regional state leaders convene.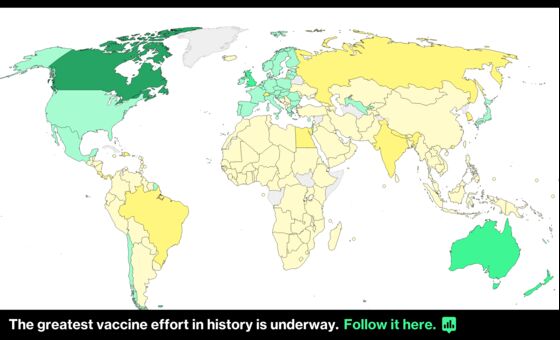 Germany isn't alone in struggling to maintain control over its outbreak. At a cabinet meeting on Monday, Italian Prime Minister Mario Draghi is expected to extend a ban on people's movement between regions for another month until late March. Officials may also discuss more measures to contain the pandemic.
"Unfortunately, given the variants which are circulating, it is indispensable that we continue with the restrictions," Health Minister Roberto Speranza told regional leaders on Sunday, according to newswire Ansa.
Amid the concerns about fast-spreading variants, Germany imposed border controls with the Czech Republic and Austria's Tirol province in mid-February. Interior Minister Horst Seehofer will seek to extend those measures this week, he told Bayerischer Rundfunk.
Despite concerns about mutations, Merkel's government is under increasing pressure to present a path out of the lockdown amid criticism over the sluggish pace of the country's vaccine program. "It is time for politics to send out other signals then always more lockdown," SPD's Klingbeil said.
Spahn pleaded for patience as the country seeks to strike a balance between easing strains on the pandemic-weary public and health risks from aggressive virus strains.
"I know everybody wants a three- and a six-month plan, but that's not possible," he said.