Germany Eyes Hard Lockdown After Record Covid Cases, Deaths
(Bloomberg) -- Germany's daily coronavirus cases and deaths rose the most since the pandemic began, increasing pressure on authorities to impose a hard lockdown over the holiday season.
New coronavirus-related fatalities climbed by 604 in the 24 hours through Friday morning, while cases jumped by another 32,734, according to data from Johns Hopkins University. Both figures exceeded previous highs reached in recent weeks.
"The wave needs to be really stopped now, because it's not going to pass by anyone," Manuela Schwesig, the state premier of Mecklenburg-Western Pomerania, said on ARD television. Authorities "must" adopt tougher measures when they meet in the coming days, she said, calling for strict restrictions to start on the weekend of Dec. 19 to avoid a panic at stores.
Chancellor Angela Merkel and the heads of Germany's 16 states are expected to discuss the pandemic at a meeting on Sunday, according to local media reports. The main measures under consideration are the closure of non-essential shops plus longer school holidays.
Germany closed bars, gyms and cinemas in early November, while allowing schools and other businesses to continue operating. The partial shutdown -- softer than curbs imposed in countries like the U.K. and France -- has so far failed to slow the spread of the disease.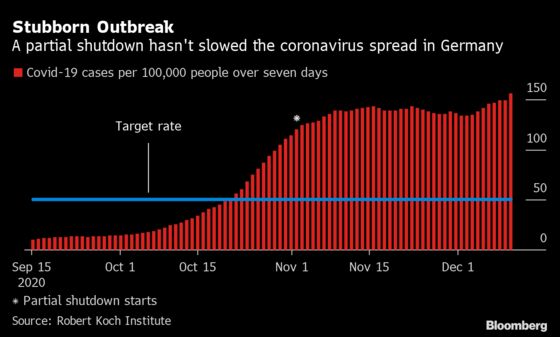 "There's pressure to act," Economy Minister Peter Altmaier said Friday in an online news conference. "We're at the point where we're expanding lockdown measures" similar to the stricter curbs in the spring, which closed schools and most businesses.
Merkel and public health officials have warned in recent days that hospitals could become overburdened and have called for tougher measures over the Christmas and New Year period. The disease is spreading rapidly among elderly Germans, and the chancellor made an emotional appeal this week to rein in celebrations to protect friends and family.
Read more: Germany Warns of Rising Covid Deaths as Spread Hits Elderly
Germany's current contagion rate is at a record of 156 infections per 100,000 people over the past seven days, more than three times the government's target rate. Around 83% of all intensive care beds are occupied, and the number of severe Covid-19 patients has been at record levels for weeks.
Ahead of new national measures, regional leaders are tightening restrictions locally. Berlin Mayor Michael Mueller plans to close non-essential stores and extend school breaks until Jan. 10, joining other states including Bavaria and Saxony in implementing more stringent curbs. He told ZDF television on Thursday evening that he expects a nationwide lockdown for three weeks starting Dec. 20.