Merkel Goes to Bat for Laschet as Poll Slump Continues
(Bloomberg) -- Chancellor Angela Merkel waded into the German election campaign with a ringing endorsement of Armin Laschet after another poll showed the Social Democrats extending their lead over her conservatives to five percentage points.
Three weeks before the Sept. 26 vote, Merkel and Laschet visited flood-hit areas of his home state of North Rhine-Westphalia on Sunday, and the outgoing German leader expressed what may be her strongest backing yet for the CDU/CSU candidate to replace her.
Merkel, who is stepping aside after 16 years in power, has mostly stayed on the sidelines of the campaign, prompting complaints from some in her alliance that she could do more to help reverse its slump in support. Laschet has run Germany's most-populous state "very successfully" and "whoever can lead such a region can lead the country as chancellor," Merkel told reporters.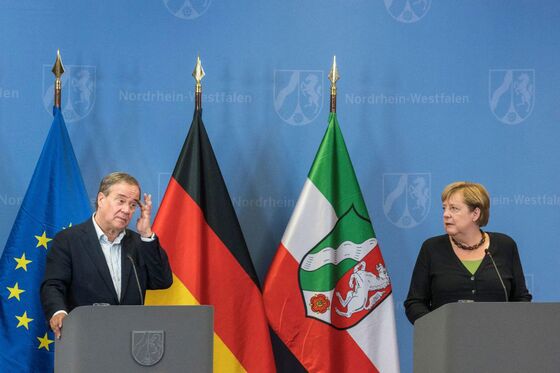 "In the next three weeks, a full effort is required on all levels, both in the government and among the campaign staff," she said. "I think that we'll do a good job together, and Armin Laschet knows he has my support. My heart is very much in it."
With Merkel no longer in the running, the conservatives may be headed for a stunning collapse that opens the door for a coalition led by SPD candidate Olaf Scholz, the finance minister in her government. Four years ago, the CDU-CSU took almost 33% of the national vote, setting Merkel up for a fourth term.
Scholz has played up his experience in governing at the federal level and many Germans see the former Hamburg mayor as a steady hand better suited to running Europe's biggest economy than Laschet, who has mounted a gaffe-prone campaign.
Both candidates will meet with Emmanuel Macron this week, with Scholz first up later on Monday when the French President hosts him at the Elysee Palace in Paris. Laschet -- who is campaigning in Heidelberg and will also visit software company SAP SE in Walldorf -- will meet Macron on Wednesday.
Time is running out for Laschet to turn things around as support for the conservatives continued to wane in the Insa poll for Bild am Sonntag newspaper published Sunday.
Backing for the SPD rose by one point to 25%, while Merkel's Christian Democratic Union and its Bavaria-based CSU affiliate declined one point to a combined 20%, matching the numbers in at least two other polls this week. It was the CDU/CSU's fifth consecutive week of decline in Insa's polling.
The Green party dropped one point to 16% and the Free Democrats were unchanged at 13%. The far-right Alternative for Germany gained one point to 12%.
With German politics fragmented, the polls suggest the country could be headed for a three-way coalition comprising an unusually disparate group of parties.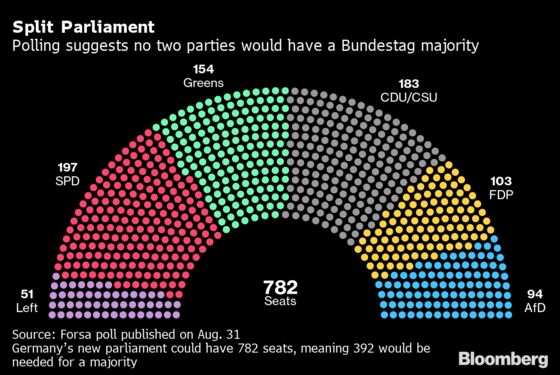 Laschet said Sunday he'll focus for the remainder of the campaign on traveling widely and "listening to people."
"There will be plenty of opportunities to get our arguments across before the TV debate on Sunday," he added.
Scholz, Laschet and the Green contender for chancellor, Annalena Baerbock, will face off in the second of three nationally televised debates on Sept. 12, with the final debate a week later.
The Aug. 30-Sept. 3 Insa poll of 1,427 people has a margin of error of plus or minus 2.8 percentage points.