German New Virus Cases Rise, Infection Rate Falls for Fifth Day
(Bloomberg) -- Germany's daily coronavirus infections rose and stayed close to a four-month high, while the infection rate declined for a fifth day.
There were 1,561 new cases in the 24 hours through Friday morning, taking the total to 240,571, according to data from Johns Hopkins University. That's close to Saturday's increase of 1,737, the highest since late April, but still far below daily gains of almost 7,000 at the peak of the pandemic in the spring.
The reproduction number -- the average number of people infected by one person with the virus -- fell to 0.83 on Thursday from 0.85 the previous day, according to the latest report from the RKI public health institute.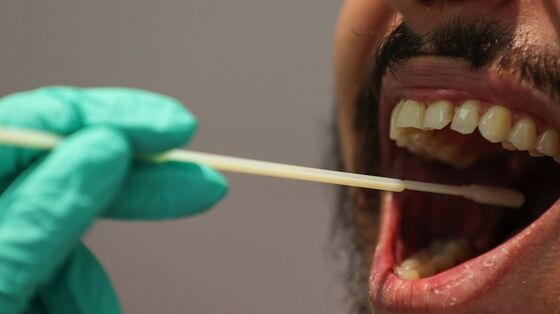 Chancellor Angela Merkel said Thursday that further easing of virus-related restrictions isn't justified given the recent uptick in daily cases, and urged Germans to refrain from non-essential travel to countries designated as risk areas.
After a video conference, Merkel and regional premiers decided to step up enforcement of hygiene and distancing regulations and agreed to impose fines of at least 50 euros ($59) on people who flout rules on wearing face masks. They also extended a ban on major public events until at least the end of this year.
The RKI said that the increase in infections is "mainly due to people returning home from vacations abroad, but also to transmission at family and other private events."
Health Minister Jens Spahn said Germany has been able to cope so far with the rise in new cases, and that the number of patients in intensive care and deaths from the disease are stable at low levels.
"What's worrying is the dynamic," Spahn said in an interview with Friday's Frankfurter Allgemeine Zeitung newspaper. "If the numbers surge exponentially again, there could be a tipping point," he added. "Unfortunately, we will only know what this critical point is in retrospect, when it's too late."