German Coalition Talks Face Strains on Split Over Money
(Bloomberg) -- Olaf Scholz's bid to succeed Angela Merkel as German chancellor is set for a critical test as the two potential junior partners sparred over fiscal policy ahead of a series of coalition talks this week. 
In a sign of the challenges ahead, Greens co-leader Robert Habeck urged debt relief for pandemic-hit European Union partners, while Volker Wissing, general secretary for the business-friendly Free Democrats, reaffirmed the party's red lines of no tax increases and sticking to constitutional debt limits.
Scholz's Social Democrats met with potential allies for more than 10 hours of discussions on Monday, with four more hours of talks planned for Tuesday. Scholz left the venue without making a statement. The FDP delegation was the first to go, with Chairman Christian Lindner bidding journalists goodnight -- others said even less.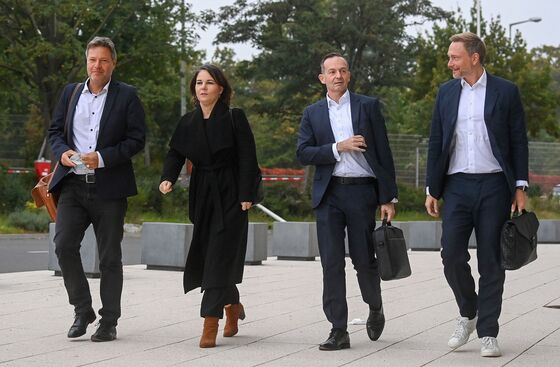 The SPD, which narrowly beat Merkel's conservatives in the Sept. 26 election, remains optimistic that it will be able to reach an agreement before the end of the year, according to Kevin Kuehnert, an SPD board member.
"I think there's enough there to develop a joint desire to govern for the first months, and then there will be crises like in every government," he said in an interview with ARD television before Monday's session. "That's totally normal, and why it's so important that the talks are conducted solidly and seriously."
While there are differences in budget policies, all three parties want Germany to invest in areas such as digitalization, climate protection and education, Kuehnert said.  
The optics projected joint purpose and coordination, with Habeck and fellow co-leader Annalena Baerbock arriving at the talks together with the FDP's Lindner and Wissing. That was less evident over the weekend.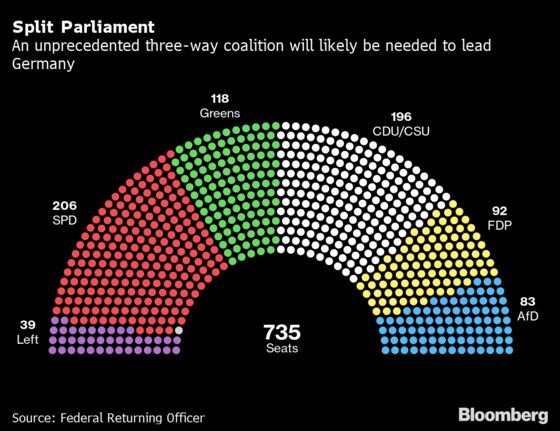 Habeck told Deutschlandfunk radio on Saturday that southern European countries hurt badly by the coronavirus shouldn't be forced to repay their debt according to the EU's stability and growth pact guidelines. He warned that deep cuts to social programs could otherwise pave the way for fascism. 
The friendly atmosphere in the initial talks shouldn't belie the fact that there remain "major differences" and a lot of deep-seated policy conflicts between the three parties. "This is not a done deal yet," he said.
The FDP takes a more stringent line on government spending and wants a full re-implementation of EU restrictions on member-state debt and deficits after the pandemic.
"Debt doesn't create a future," Wissing told the Bild newspaper on Sunday, insisting that his party would "stick to this position."
SPD's Kuehnert said the parties would each have to soften their positions to reach an agreement. He appeared to offer the FDP an opening by saying a plan to change Germany's so-called debt brake "isn't really on the agenda" because there's not enough parliamentary support.
But he indicated there's still plenty of challenges to overcome in terms of setting budget priorities and creating "a more just tax system," he said. "There's a long way still to go."