German Far-Right Party Targets ECB Before Key Regional Election
(Bloomberg) -- Germany's far-right AfD party renewed its attacks on the European Central Bank ahead of a key regional vote, accusing the Frankfurt-based institution of stoking inflation and "dispossessing" citizens.
AfD officials have long targeted the ECB, saying that its monetary policies, including hundreds of billions of euros in bond purchases, are stoking price gains and eating away at the savings of ordinary voters. The warnings especially resonate in Germany due to its experience with hyperinflation in the early 1920s.
"With the policy of cheap money, countless companies and entire countries have avoided bankruptcy for years," Alice Weidel, the co-leader of the AfD's parliamentary caucus, said Wednesday in a tweet. "The ECB's zero interest-rate policy must finally be ended."
Weidel's intervention comes just days before Sunday's election in the eastern state of Saxony-Anhalt, where polls suggest the AfD could have a real chance of defeating Chancellor Angela Merkel's Christian Democrats and winning a regional vote for the first time.
It's the final state election before September's national vote, and a key test for Armin Laschet, the CDU chairman and chancellor candidate who has struggled to stamp his authority on the party since taking over in January.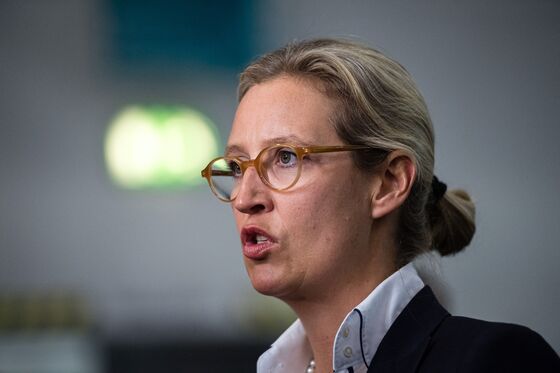 Inflation may become a nationwide campaign issue in the coming months. It hit 2% in the euro region last month, the highest level in more than two years, and the Bundesbank says price gains could reach 4% this year. The official line, though, is that the spike will be temporary.
Weidel's warning was echoed Wednesday by Bild newspaper, Germany's biggest-selling tabloid. An article headlined "Inflation is Eating Up Our Savings" included a graphic that showed how gasoline prices have jumped by almost a quarter since April 2020 as well as steep price gains for other consumer goods.
The AfD -- which advocates Germany abandoning the euro -- is not the only political party in Europe's biggest economy to criticize the ECB. Bild quoted Albert Fueracker, the Bavarian finance minister and part of Merkel's conservative alliance, as saying the central bank's policies are "poison."
"As inflation is now rising, expropriation is becoming more and more noticeable for savers," Fueracker told the paper. "Bavaria has been warning for years that the zero interest-rate policy must be ended -- now it is high time."