German Coronavirus Cases Jump by Most Since Outbreak Began
(Bloomberg) -- Germany recorded the most new coronavirus cases since the start of the pandemic, one day after the government imposed a hard lockdown on Europe's biggest economy.
Infections surged by 45,113 in the 24 hours through Thursday morning, according to data from Johns Hopkins University. That easily exceeded the previous high of 32,734 recorded last week and brought the total to 1.42 million. Daily virus-related fatalities amounted to 729, after hitting a record 910 on Wednesday.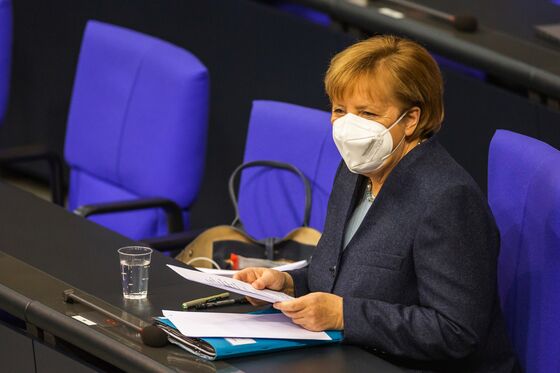 Chancellor Angela Merkel hinted this week that stringent restrictions, which are set to run until Jan. 10, will remain in place longer. Merkel told her parliamentary caucus that Germany faces a new peak of infections next month and predicted that the first two months of 2021 will be particularly tough, according to a participant in the virtual meeting Tuesday.
A strict lockdown began on Wednesday, with non-essential stores closed, employers urged to shutter workplaces and parents encouraged to keep children away from school.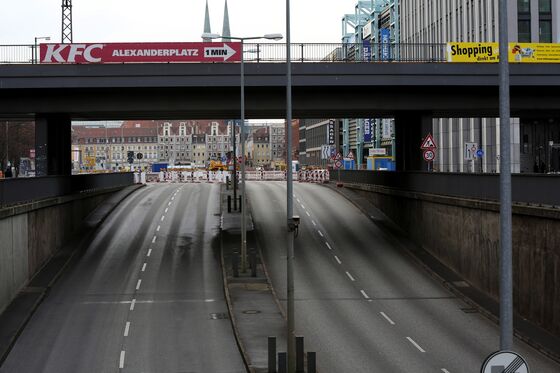 Germany's seven-day incidence rate has risen sharply in the past few weeks and currently is at a near-record of 179 per 100,000 inhabitants, according to the RKI public health institute. Officials have said the rate needs to come down to 50 and stay there to allow effective contact tracing.
The government is targeting so-called herd immunity, which means most people are resistant to the disease. To achieve that, at least 60% to 70% of the population will need to be vaccinated, Research Minister Anja Karliczek said in an interview with ZDF television on Thursday.
"Any vaccine needs to be safe and effective, that's clear," she said, adding that the government wants to avoid undermining confidence by rushing the approval process.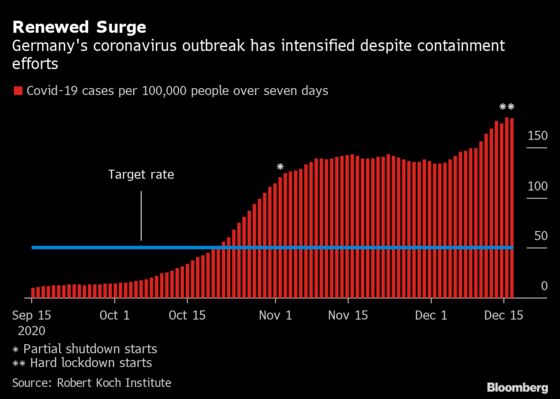 European authorities are pushing for a compressed approval timeline for the Covid-19 vaccine from Pfizer Inc. and BioNTech SE, according to people familiar with the plan. That could enable a rollout on the continent before Christmas.
The EU is pushing for speed after member countries' leaders have struggled to explain to residents why they're still waiting for shots already being rolled out in the U.S. and U.K. -- a particular sore spot given that the Pfizer-BioNTech vaccine was pioneered in Germany.
Merkel is due to holds a video conference with executives from Mainz-based BioNTech later on Thursday. Health Minister Jens Spahn on Wednesday told state counterparts that the first patients in Germany are likely to get the vaccine on Dec. 27.