Arizona Elections Official Received Threats: Election Update
(Bloomberg) -- Arizona's top elections official says she's received violent threats. Alaska voters approved a change that could complicate the 2022 Senate race. And President Donald Trump's supporters say they believe his false claims of massive election fraud.
There are 20 days until the deadline for states to certify their results, 26 days until the Electoral College meets, 49 days until Congress certifies the results and 63 days until inauguration.
Alaska's Top Elections Official Says She's Received Violent Threats
Arizona's top elections official says her family and staff have received violent threats and called on Trump and Governor Doug Ducey to acknowledge the results of the November election.
Secretary of State Katie Hobbs issued a statement blaming the president, members of Congress and other elected officials who have made baseless claims of massive voting fraud for the "threats of violence and vitriol" she's faced.
"I am calling on other leaders in this state, including the governor, whose deafening silence has contributed to the growing unrest, to stand up for the truth," she said.
Georgia Secretary of State Brad Raffensperger, Philadelphia elections officials and other local elections clerks have also received death threats over their handling of the election.
Alaska Approves Ranked-Choice Voting on Statewide Races
Alaska will become the second state in the country to allow ranked-choice voting for statewide races.
With all the ballots counted as of Wednesday, Alaska voters have narrowly approved a dramatic shift to ranked-choice voting, in which voters rank the candidates. If no candidate wins a majority on the first round, lower-ranking candidates are eliminated and second-choice votes redistributed.
The ballot measure also creates a "top four" primary, in which candidates from all parties will be on the same ballot and the top four vote-getters will advance to the general election.
The change could complicate Senator Lisa Murkowski's 2022 relection effort. She is the only person in history to win three Senate races without a majority of the vote.
In 2016, Murkowski fended off a strong challenge from a Libertarian candidate as well as independent and Democratic candidates, while in 2010, she ran as a write-in candidate against a Republican and a Democrat.
Alaska is the second state to adopt ranked-choice voting in federal elections, after Maine, where Senator Susan Collins won a majority on the first ballot this year.
Trump Supporters Echo His False Claims of Election Fraud (11:43 a.m.)
More than three-fourths of Trump supporters say they believe his false claims of massive fraud in a new poll.
In a Monmouth University poll released Wednesday, 77% of Trump backers say that President-elect Joe Biden's win was due to fraud, compared to 32% of respondents overall.
Patrick Murray, director of the Monmouth University Polling Institute, said the poll showed the "deep partisan divisions" in the election's aftermath tied to a belief that it was stolen.
"It's not unusual for backers on the losing side to take a while to accept the results," Murray said. "It is quite another thing for the defeated candidate to prolong that process by spreading groundless conspiracy theories. This is dangerous territory for the Republic's stability."
The poll of 810 Americans was conducted from Nov. 12-16. It has a margin of error of 3.5 percentage points. -- Emma Kinery
Twitter Head Confirms Trump's Special Status Will End (10:45 a.m.)
Trump's tweets could get him in trouble with the social media giant starting on Jan. 20.
Twitter CEO Jack Dorsey told the Senate Judiciary Committee on Tuesday that it will treat the president like any other user after President-elect Joe Biden is sworn in.
That means Trump will be barred from making threats, harassing other users or violating copyright -- three things he's occasionally done as president. Since he was a global leader, Twitter has either flagged the Trump tweet with a warning or disabled a video, but not suspended his account or forced him to delete the tweet.
"If an account is suddenly not a world leader any more, that particular policy goes away," Dorsey said.
While Trump hasn't been suspended from Twitter, his son, Donald Jr., was briefly suspended from tweeting in July after sharing a video that claimed that hydroxychloroquine is a cure for the coronavirus.
Two Senate Runoffs Essentially Tied in Georgia (8:40 a.m.)
The fate of President-elect Joe Biden's agenda is on a knife's edge in Georgia, where two Senate runoffs are essentially tied.
With control of the Senate dependent on the outcome of the Jan. 5 races, a new poll from Insider Advantage for Fox 5 Atlanta shows extremely tight races.
Republican Senator Kelly Loeffler had 48% support to Democratic challenger Raphael Warnock's 49%, with 3% undecided.
Republican Senator David Perdue and Democratic challenger Jon Ossoff both had 49% support, with 2% undecided.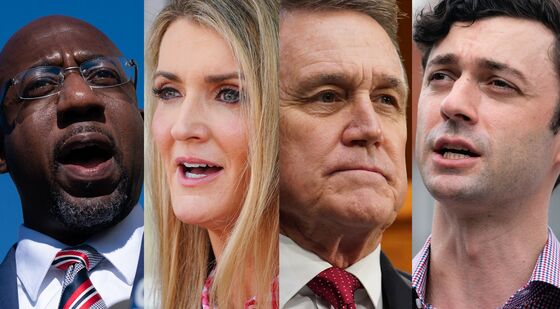 In what could be a bad sign for the GOP, Republican Governor Brian Kemp's approval slipped to 37%, with 44% disapproving, as President Donald Trump has blasted him and other state officials with false claims of voter fraud and election mismanagement.
The survey of 800 likely voters was taken Nov. 16. It has a margin of error of plus-or-minus 3.5 percentage points.
Biden will participate in a virtual roundtable with frontline health care workers in Wilmington, Delaware, on Wednesday.