Georgia Democrat Calls Election Hacking Claim a 'Witch Hunt'
(Bloomberg) -- Stacey Abrams, the Democratic nominee in Tuesday's closely watched Georgia governor's race, accused her Republican opponent of abusing his power as the state officeholder overseeing voting, characterizing Brian Kemp's election-hacking claims as a "witch hunt."
Kemp, Georgia's secretary of state, said in a statement issued by his office Sunday that there had been "a failed attempt to hack the state's voter registration system" and that an investigation had been opened into the Democratic Party of Georgia. No data was breached and federal authorities have been alerted, according to the statement.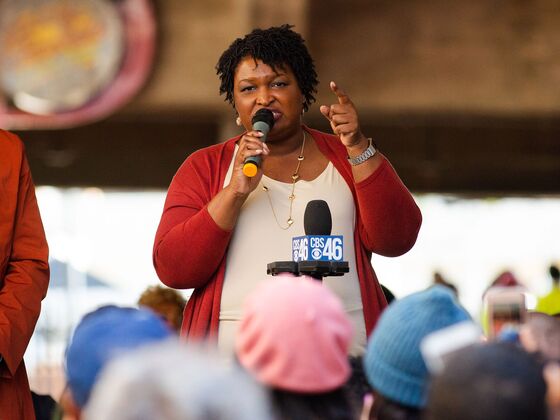 Abrams told CNN Monday that Kemp's decision to implicate Democrats was an attempt to deflect blame over his own failure to secure the system.
"It's a witch hunt that was created by someone who is abusing his power," she said. "That's an easy ploy."
The leader of a watchdog group that has sued Kemp's office over its handling of election security said that it was "completely ridiculous" for Kemp to link the state's Democrats to the issue.
"The reason he's deflecting and blaming is to try to appeal to his base and to make it appear that somehow this is all political, that somehow the Democrats did something wrong when there is no evidence of that," said Marilyn Marks, executive director of the Coalition for Good Governance. "If there's evidence of that, he needs to produce it."
Kemp's announcement came after an investigative news site, WhoWhatWhy, described vulnerabilities cited by state Democrats, but the report did not allege attempts at hacking. WhoWhatWhy spoke with cybersecurity experts who said that any breach could not be tracked in the voter registration system. Candice Broce, a spokeswoman for Kemp, told the news site that the experts were "wrong" and unfamiliar with the system's security.
Rebecca DeHart, executive director of the Democratic Party of Georgia, said in an emailed statement that Kemp's claims are "100 percent false" and an "abuse of power."
"This political stunt from Kemp just days before the election is yet another example of why he cannot be trusted and should not be overseeing an election in which he is also a candidate for governor," DeHart said in the statement.
Kemp has repeatedly come under criticism for his handling of the state's elections system. On Friday, he lost in court when a federal court judge in Atlanta ruled that more than 3,100 voters who the state had flagged as non-citizens and ineligible to vote could participate in the Nov. 6 election as long as they show identification and proof of citizenship.
The week before, another Atlanta federal court judge ordered election officials to create a process for contesting the rejection of absentee ballots and applications due to signatures that apparently didn't match.
Later Sunday, Kemp's office issued an updated statement saying it had received information from its "legal team about failed efforts to breach the online voter registration system" but did not provide any additional evidence for the claims.
Abrams's campaign said in an email to supporters that "an outside data expert" found a vulnerability over the weekend "that allowed voters' personal information to be exposed." The expert told the state's party, which in turn notified a cybersecurity expert. The campaign also said in the message that neither the campaign nor the party had been contacted by any law enforcement authorities.
David Cross of Morrison & Foerster LLP, a lawyer for three Georgia voters who are suing the state over alleged vulnerabilities in the election system, told reporters on Sunday that a "concerned" Georgian -- who has a tech background but not a cybersecurity one -- got in touch with him through one of his clients on Friday. Cross said the man later alerted the state's Democratic Party, while the lawyer had told federal authorities and counsel for Kemp. Cross called Kemp's actions "the apparent response" to that notification.
Georgia's voting system is among the most exposed and vulnerable in the country, but Kemp has scoffed at cybersecurity concerns.
A former state senator, he was appointed secretary of state in 2010 and elected in 2014. Amid evidence of Russian interference in the presidential race in 2016, Kemp called an offer by the U.S. Department of Homeland Security to test Georgia's election cybersecurity an Obama administration attempt "to achieve the goal of federalizing elections under the guise of security."
In testimony to Congress in September 2016, Kemp called out "conspiracy theorists, campaigns, and members of the media" as election threats. He also accused DHS of trying to hack Georgia's system. The "hacks" turned out to be routine web searches for gun licenses.
Kemp and Abrams, a former Georgia House minority leader, have clashed for several years over his efforts to pursue alleged voting fraud. His targets have included activists who helped elect a majority black school board in a rural area and a group -- headed by Abrams -- that led a large minority registration drive in 2014.
Kemp also has faced criticism of his handling of the Georgia election system's security. In July 2017, Marks's group filed its lawsuit accusing him and other officials of ignoring its security holes and allowing elections to proceed, knowing they aren't safe from hackers. The plaintiffs sought an injunction to force the state to use paper ballots in the midterms. A judge said in September that the issue "affects the credibility of the system," but she ruled it was too late to switch to paper for voting on Nov. 6.
Kemp has said Georgia elections are secure but concedes its machines should be replaced by 2020. He and other defendants have appealed the paper-ballot lawsuit, which the judge has refused to dismiss. In the meantime, Kemp will be certifying Tuesday's results, his own included.