Georgia's Final Presidential Election May Be a First for Women
(Bloomberg) -- The billionaire kingmaker of Georgia's politics is backing a woman to be the country's president for the first time when the Caucasus republic holds its last direct elections for head of state on Sunday.
The ruling Georgian Dream party of former Prime Minister Bidzina Ivanishvili, the country's richest man, is urging voters to support Salome Zurabishvili, who would be the first woman elected as president in any former Soviet republic outside the Baltic states if she wins.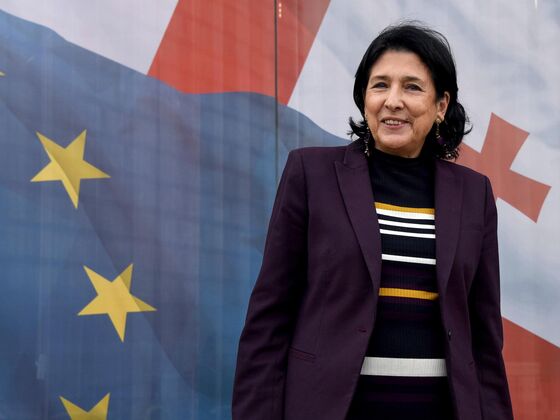 Zurabishvili, 66, a former Georgian foreign minister who was born in France, stirred controversy in her campaign by blaming ex-President Mikheil Saakashvili for the country's 2008 war with Russia. She later clarified that she viewed Russia as the "aggressor," while accusing Saakashvili of giving in to provocations from Moscow in the conflict over the breakaway regions of Abkahzia and South Ossetia.
Georgia has been a key battleground between Russia and the West since Saakashvili's 2003 Rose Revolution tilted the former Soviet republic toward closer ties with the European Union and the North Atlantic Treaty Organization. Ivanishvili sought to ease tensions with Russia, largely without success, after forming Georgian Dream to oust Saakashvili's party from power in 2012, while continuing the push to integrate with the West. Prime Minister Mamuka Bakhtadze said this month that EU and NATO membership remain the country's "top priority."
Ivanishvili urged party supporters to vote for Zurabishvili, who's formally an independent candidate, at a rally in the capital, Tbilisi, on Thursday. "We really do have a good chance to win without a runoff," he said.
Her principal rivals for the largely ceremonial post include Grigol Vashadze, 60, of the Strength in Unity grouping of opposition parties, who was foreign minister for four years to 2012, and Davit Bakradze, 46, of the European Georgia party, a former speaker of parliament who came second in the 2013 presidential election.
A poll of 2,001 adults for Georgia's Rustavi 2 TV published Thursday found that 37 percent of those who intend to vote back Vashadze, 32 percent support Zurabishvili and 16 percent favor Bakradze. The survey by Edison Research was conducted Oct. 15-24 with a margin of error no greater than 3 percentage points.
Vashadze's political grouping includes the remnants of Saakashvili's United National Movement after Bakradze and other leading members split from the party last year.
The winner needs more than 50 percent of votes to avoid a runoff between the top two candidates. A record 25 challengers are competing to succeed incumbent Giorgi Margvelashvili, who isn't seeking a second term.
The new president will serve a six-year term, instead of the present five, under constitutional changes approved by lawmakers last year that completed Georgia's shift to a parliamentary system of government. From 2024, the president will be chosen by a 300-member electoral college made up of members of parliament and local government representatives, with the term reverting to five years.
Georgia has briefly had a woman as acting president twice. The then speaker of parliament, Nino Burjanadze, took on the role for two months after the Rose Revolution, and again when Saakashvili stood down in November 2007 to call early presidential elections following a political crisis over a violent crackdown on opposition protesters.