Georgia Replays History as Rival Camps Fight for Presidency
(Bloomberg) -- Georgia will hold its first runoff election for president on Wednesday in a contest between two former foreign ministers that reflects the country's political divisions since the 2003 Rose Revolution.
Salome Zurabishvili, who's backed by billionaire Bidzina Ivanishvili, faces Grigol Vashadze, representing an opposition coalition dominated by the United National Movement of former President Mikheil Saakashvili. Ivanishvili, the country's richest man, leads the ruling Georgian Dream party that ousted the UNM from power in 2012, prompting Saakashvili to flee into exile after prosecutors brought charges for alleged abuse of power.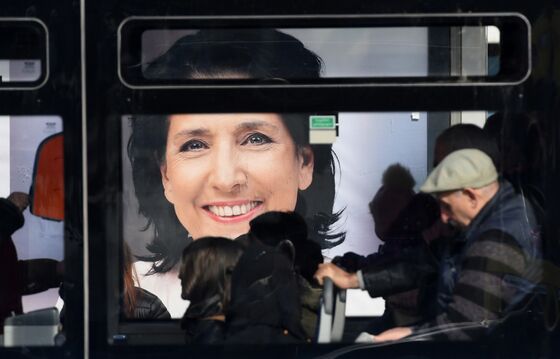 French-born Zurabishvili, 66, is seeking to become the first woman elected as president in any former Soviet republic outside the Baltic states. Vashadze, 60, said in a TV interview Monday that Saakashvili should be allowed to return to Georgia "as a citizen." The former president has thrown his support behind Vashadze in messages posted on social media.
Georgia has been a key battleground between Russia and the West since Saakashvili led the Rose Revolution 15 years ago this month that tilted the Caucasus republic toward closer ties with the European Union and the North Atlantic Treaty Organization. Ivanishvili sought to ease tensions with Russia, largely without success, after the countries fought a 2008 war over two breakaway territories. He's continued Saakashvili's push to integrate with the EU and NATO, which Prime Minister Mamuka Bakhtadze last month said was Georgia's "top priority."
Zurabishvili finished less than one percentage point ahead of Vashadze in the first round of voting on Oct. 28. Georgia's previous presidential contests were all won without a runoff. This is the last direct election for the largely ceremonial post under constitutional changes approved by lawmakers last year that completed Georgia's shift to a parliamentary system of government.
The new president will serve a six-year term, instead of the current five. From 2024, the head of state will be chosen by a 300-member electoral college made up of members of parliament and local government representatives, with the term reverting to five years.