Georgia Orders Hand Recount of Ballots in Presidential Race
(Bloomberg) -- Georgia Secretary of State Brad Raffensperger said Wednesday the state would begin a county-by-county hand recount of ballots for President-elect Joe Biden and President Donald Trump that would be completed by Nov. 20.
The review comes as Biden currently leads by a slim margin of about 14,000 votes in the state, where some 5 million residents voted, the secretary of state said. The recount only applies to the presidential race and will not affect the state's two Senate races, which are headed to a January runoff that will decide which party holds the majority.
Raffensperger said the audit must be completed by the Nov. 20 deadline for certification, though Georgia law allows a superior court judge to move the deadline if needed.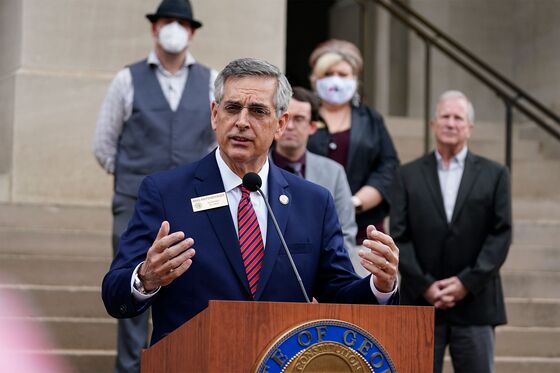 The Trump campaign said Wednesday on a call with reporters that it had found widespread voting irregularities but cited little evidence. Earlier, it issued a list of four dead people in the state whose names might have been on ballots cast.
Representative Doug Collins, a Georgia Republican, said state residents "were denied their right to vote" and that the campaign was "investigating issues of ballot harvesting and signature matching."
Raffensperger called the review an "audit, canvass and recount" all in one.

Raffensperger was criticized this week by fellow state Republican leaders, who called for his resignation for his handling of the election. In a news conference Wednesday, Raffensperger said that if anyone has evidence of voter fraud or suspects illegal voting, "Bring it to us."
Paige Hill, a spokeswoman for the Biden campaign in Georgia, said the recount wouldn't change the outcome of the election.
"Historically, only races with exceptionally close margins have any likelihood of being overturned. President-elect Biden's margin is now at more than 14,000 votes." Hill said in an email. "Georgians have selected Joe Biden as their next commander in chief."
A Georgia law states that only courts can order recounts, but the secretary of state was able to do so by using an already planned audit process. The election was initially supposed to be subject to a so-called risk-limiting audit, which typically starts with a limited sample of ballots, and widens to more only if mistakes are found. Because the margin in the presidential race is small, the sample size would have been so large that it made more sense to count all of the ballots, said Walter Jones, a spokesman for the secretary of state's office.
Decisions about how to staff the recount will be left to counties, but Jones said most will call back poll workers who just finished the count. It will also be up to counties to pay for it. The workers will check the printed version of each ballot and create a tally in front of observers from both campaigns.
How the recount is handled will vary by location. Counties can only begin the recount after they have certified the vote and the biggest counties were only completing that initial process this week.
Elections officials in Fulton County, Georgia's biggest county and typically the last to complete vote counts, were meeting Wednesday to figure out the logistics. The county was scheduled to certify its results Friday.
DeKalb County is moving its certification deadline from Friday to Thursday, which would allow it to begin the recount earlier. In Gwinnett County, which has already certified its results, officials had planned to begin the audit Thursday, before learning they now had to perform a recount of every ballot. The county is still working out its plans, spokesman Joe Sorenson said.