Georgia Ordered to Delay Certifying Vote in Rebuke to Kemp
(Bloomberg) -- Georgia was ordered to take extra steps to protect voters who used provisional ballots during last week's elections because Republican gubernatorial candidate Brian Kemp may have failed to properly maintain the voter registration database when he served as secretary of state.
U.S. District Judge Amy Totenberg in Atlanta late Monday ordered the state to delay certifying the election results until Nov. 16 and carry out a review of all provisional ballots that were cast. Georgia must also set up a hotline and website for voters to check if their ballots were counted, she said.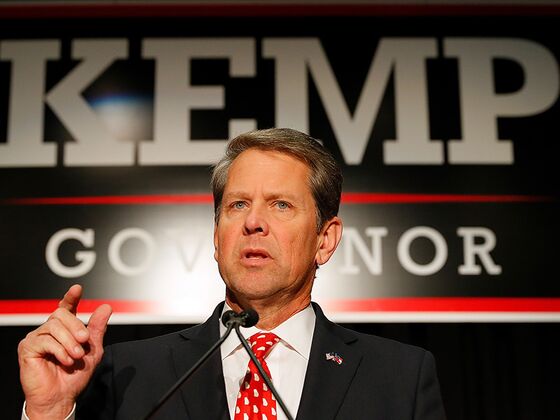 "Plaintiff has shown a substantial likelihood of proving that the secretary's failure to properly maintain a reliable and secure voter registration system has and will continue to result in the infringement of the rights of the voters to cast their vote and have their votes counted," the judge said.
Kemp, a Republican who oversaw the election in Georgia while he was on the ballot, resigned after declaring he beat Democrat Stacey Abrams, who hasn't conceded. Kemp currently leads with 50.3 percent of the vote to 48.8 percent to Abrams, who would need a net gain of about 21,000 votes to force a runoff in the state. Georgia requires a second round of voting if no candidate gets more than 50 percent of the vote. 
"The Secretary of State's office is reviewing the order and considering our options with legal counsel," spokeswoman Candice Broce said Tuesday in an emailed statement. The secretary of state's office is now overseen by Robyn Crittenden.
The judge said voters whose provisional ballots were rejected must be provided with detailed information about why they were denied starting Nov. 14. Around 27,000 provisional ballots were cast, according to the ruling.
The plaintiff, the nonprofit group Common Cause Georgia, argued that a spike in the use of provisional ballots during the election suggests hackers may have purged names from the state's voter rolls. The group said Kemp increased the risk of such an attack by publicly highlighting the database's vulnerability just before Election Day.
The judge agreed with Common Cause that there had been a statistically significant increase in the use of provisional ballots over 2016 and 2014. The civil rights group argued that such an increase was a sign that the voter database may have been hacked and that names were purged, which would have forced poll workers to issue provisional ballots instead on Election Day.
Those ballots, they argue, are likely to not be counted as a result of state law. Totenberg said in her ruling that repeated inaccuracies were found in the voter registration system.
"For example, there was evidence from voters that they were registered but were told they were not in the registration system; there was evidence that voters were sometimes refused provisional ballots or, if provided provisional ballots, sometimes had to return to the polls to insist on this," the judge said.
Another federal judge on Tuesday barred officials in populous suburban Gwinnett County from rejecting absentee ballots that don't have voters' birthdates filled in properly. U.S. District Judge Leigh Martin May ordered the county to delay certifying its results until those ballots are counted.
The Gwinnett ruling could also affect a House race in the 7th Congressional District, where Democrat Carolyn Bourdeaux is 901 votes behind incumbent Republican Rob Woodall.