Georgia Demands Russia Withdraw Troops From Breakaway Regions
(Bloomberg) -- Georgia demanded that Russia pull out its forces from two breakaway regions a decade after a war between the two former Soviet neighbors, as Georgian efforts to join NATO continue to stoke tensions with Moscow.
"I urge the Russian Federation: fulfill your assumed and signed international obligations and withdraw your occupation forces from Georgia's territory," Prime Minister Mamuka Bakhtadze told the United Nations General Assembly on Thursday. "The occupation and blatant disregard of the rule of law has created serious challenges to the security and stability of Georgia and the wider region."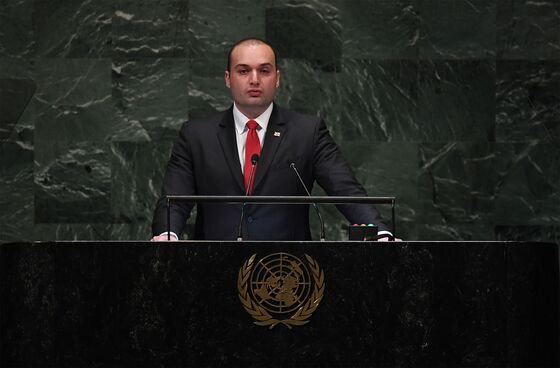 U.S. President Donald Trump's administration has given support to Georgia's ambition of joining the North Atlantic Treaty Organization amid staunch Russian hostility to the U.S.-led military alliance expanding its influence in what Moscow considers its former Soviet backyard.
Last year Georgia took part in joint military exercises with the U.S. that were the biggest since the 2008 war over the breakaway regions of South Ossetia and Abkhazia.
Since that conflict, Russia in 2014 annexed Ukraine's Crimea Peninsula and backed secessionists in the east of the country, splitting off the rebel territory and provoking the worst crisis with the West since the Cold War.