Georgia GOP Governor Candidate Asks Judge to Put Ballot Order on Hold
(Bloomberg) -- Georgia's Republican candidate for governor asked a judge to put on hold an order allowing voters in the Nov. 6 election to challenge disqualification of their absentee ballots.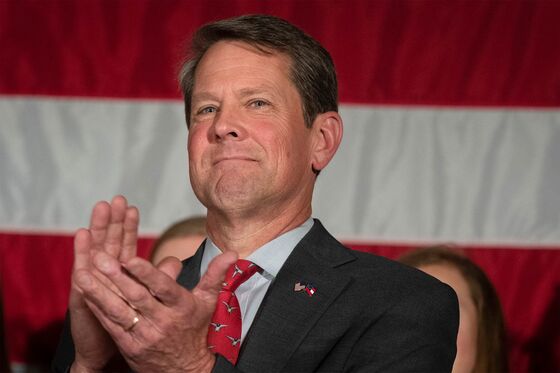 Brian Kemp, who is also secretary of state, said the order will "introduce uncertainty and confusion under extreme time pressure at best," potentially undermining the integrity of the state election process. Kemp, in a tight race with Democrat Stacey Abrams, said he planned to appeal the decision as part of his request that it not take immediate effect.
On Thursday, U.S. District Judge Leigh Martin May signed an order requiring county officials to treat as provisional any absentee ballots for which the signatures don't match those on file, then give voters a notice of the rejection and a chance to address the perceived discrepancies. Her ruling followed a hearing on two lawsuits claiming the state is rejecting hundreds or thousands of mail-in applications and ballots.
"Plaintiffs challenge statutory provisions that have been part of Georgia's election code for decades, and yet they waited until after the start of the 2018 general election to bring their emergency suits," according to Kemp's filing. "This delay is not excusable."
The cases are Martin v. Kemp, 1:18-cv-04776, and Georgia Muslim Voter Project v. Kemp, 1:18-cv-04789, U.S. District Court, Northern District of Georgia (Atlanta).