Gearing Up to Host EU Presidency, One Nation Is Losing the Faith
(Bloomberg) -- As Romania prepares to assume the European Union's rotating presidency, belief in the bloc among the country's citizens is plummeting more rapidly than in any other member state.
The share of Romanians who say membership is a "good thing" dropped by 10 percentage points from April, to 49 percent, according to the European Parliament's twice-annual Eurobarometer survey, released Wednesday. That leaves support on par with the U.K., which is hammering out the details of its exit, and way below the backing that existed when the Black Sea nation joined the EU alongside neighboring Bulgaria in 2007.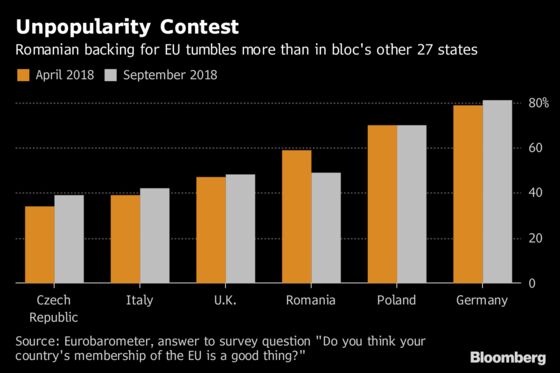 The plunge doesn't mean Romanians want out. While they don't yet enjoy access to the passport-free Schengen zone, many have jumped at the chance to work abroad, and EU institutions provide something of a counterweight to domestic government in what remains one of the bloc's most corrupt countries. If a referendum were held tomorrow, about two-thirds would vote to stay.
The change of heart may reflect a growing distrust of politicians in general. Romania's ruling coalition has been chipping away at anti-corruption efforts, sparking criticism from Western allies and prompting the largest protests since the fall of communism at home. Clashes marred the latest big demonstrations, in the summer, further souring the mood.
"In Romania, the turbulent national context that the country knows since August seems to be affecting also its traditionally higher EU support indicators," according to the Eurobarometer survey.
Even so, the slump should be cause for concern before Romania's six-month EU presidency, which starts in January. Especially when support for the bloc actually rose in unlikely member states including Italy and Britain.