Gaza Militants and Israel Fight On Amid Talk of a Cease-Fire
(Bloomberg) -- Israeli airstrikes battered the Hamas-ruled Gaza Strip early Wednesday and rocket barrages from the isolated enclave thudded into Israel as a frenzy of diplomacy sought to end the devastating conflict.
Israeli aircraft struck about 40 underground military targets belonging to Hamas overnight, as well as rocket-launching sites and other military facilities of the Islamic Jihad militant group, the Israeli army said. The strikes sent the Palestinian death toll climbing to 219. Rockets fired into Israel have killed 12 people since fighting began on May 10.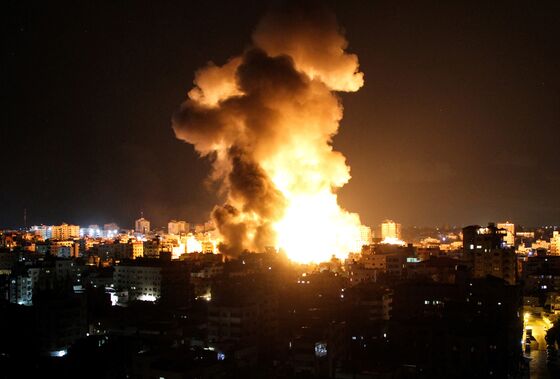 Israel's Channel 12 TV reported late Tuesday that Egypt, which has played a key role in ending previous bouts of violence in Gaza, had proposed a cease-fire that would start Thursday at 6 a.m., and that Hamas had agreed to comply. The report could not be confirmed. An Israeli government spokesman declined to comment while officials from the Palestinian Islamist group variously declined to confirm or deny it outright.
The latest round of violence has been especially fierce. Heavy Israeli airstrikes and artillery attacks have wrought unprecedented destruction in Gaza, where leading Hamas commanders and intelligence figures have been assassinated. Hamas has barraged Israel with an intensity not seen before, lobbing more than 3,700 rockets.
Israeli Prime Minister Benjamin Netanyahu assessed on Tuesday that the operation has set back Palestinian militants "many years" and that other enemies "will learn the lesson" from the heavy price Gaza gunmen have paid. On Wednesday, he told foreign diplomats that Israel can either "deter" or "conquer" Hamas, the Ynet website reported.
The Associated Press reported that Joe Biden and administration officials have privately encouraged Netanyahu and other top Israeli officials to end the bombardment, taking a firmer line behind the scenes than in public as pressure has grown on the U.S. president to act more forcefully.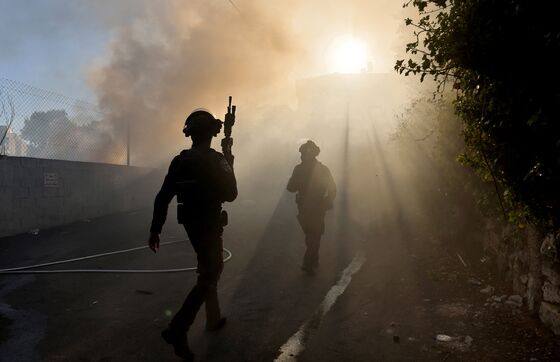 Publicly, the Biden administration has urged a cease-fire but has stopped short of demanding one, to the dismay of some Democratic lawmakers. It also blocked a United Nations Security Council statement expressing "grave concern" over the conflict and the loss of civilian lives, with Secretary of State Antony Blinken saying it wouldn't have helped to end the violence.
Axios reported Wednesday that France was pushing a separate resolution at the Security Council calling for a truce, designed to get the U.S. to apply more pressure on Israel. France plans to bring it to a vote in the coming days if the violence doesn't stop, the report said, adding that the move was coordinated with Egypt and Jordan following a summit between the three countries' leaders on Tuesday.
"If the Biden administration can exert all of their pressure to bring an end to the aggression against our people, nobody is going to stand in their way," Riyad Mansour, the Palestinian ambassador to the United Nations, told reporters Tuesday in New York.
The hostilities erupted after weeks of clashes between Palestinians and Israeli security forces in east Jerusalem, the holy city at the heart of conflicting sovereignty claims. The violence also spilled over into deadly clashes inside Israel between Arab and Jewish citizens of Israel.
Fighting spread Tuesday to the West Bank, where four Palestinians were killed by Israeli security forces after pockets of violence broke out at protests against Israeli actions in Jerusalem and Gaza. Demonstrations were due to resume Wednesday in Ramallah, the seat of the Palestinian Authority.