Gavin Newsom Wins Bid to Succeed Brown as California Governor
(Bloomberg) -- California Lieutenant Governor Gavin Newsom won the race to succeed term-limited Jerry Brown as the state's next governor over Republican businessman John Cox, according to projections from NBC and Fox.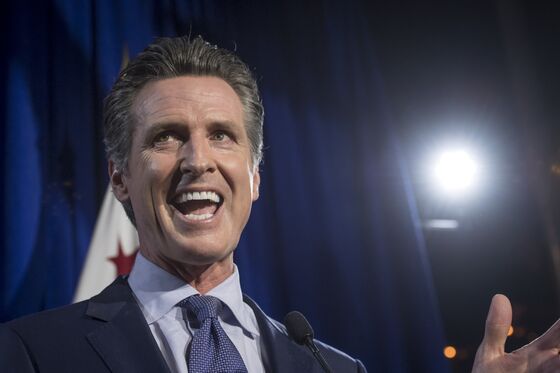 Newsom, a 51-year-old Democrat and former San Francisco mayor, had consistently led in opinion polls by as much as 20 percentage points. Cox, endorsed by President Donald Trump, faced an uphill battle in California. The state hasn't elected a Republican to statewide office since 2006, when actor Arnold Schwarzenegger won a second term as governor.
Newsom in January will take the helm of the world's fifth-largest economy and lead the blue state's resistance to many of Trump's policies, from immigration to environmental regulations. Bond investors want the Democrat to balance campaign promises against the threat of a return to massive deficits as some see an economic downturn occurring within his four-year term.