Manafort May Have Lied to Boost Chance at Pardon, Mueller Says
(Bloomberg) -- President Donald Trump's former campaign chairman, Paul Manafort, may have lied to prosecutors to increase his chances at a pardon for crimes he committed, according to a court transcript.
Manafort "lied about an extremely sensitive matter," Andrew Weissmann, a prosecutor in Special Counsel Robert Mueller's office, told a judge at a Feb. 4 hearing. Manafort's motivation may have been to "augment his chances for a pardon," Weissmann said, according to a section of the transcript that's heavily redacted. The document was unsealed Thursday.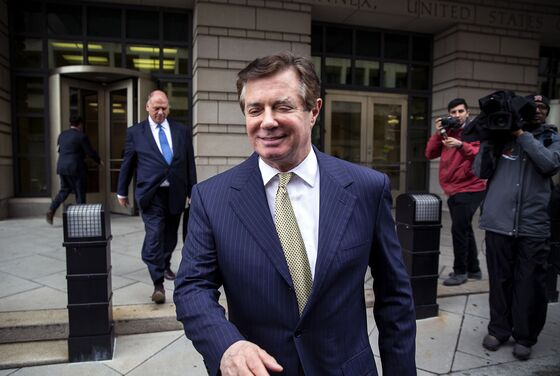 Manafort's hopes for a pardon was one of several revelations in the 142-page transcript of a sealed hearing. It was called by a judge seeking to determine whether Manafort breached a plea agreement by lying to investigators during a dozen debriefings and in two grand jury appearances.
Many of those lies involved Konstantin Kilimnik, a translator who worked with Manafort for a decade on political campaigns in Ukraine and is suspected of having ties to Russian intelligence, prosecutors have said.
The transcript revealed that Kilimnik attended Trump's inauguration, and that he and Manafort did political work in Ukraine in 2018 -- after Manafort's first indictment in late 2017. At the hearing, U.S. District Judge Amy Berman Jackson said prosecutors believe that Manafort lied about his interactions with Kilimnik, which occurred from August 2016 to December 2018. The specific topic of the lies is redacted from the transcript.
One of the meetings, on Aug. 2, 2016, "goes, I think, very much to the heart of what the special counsel's office is investigating," Weissmann told the judge. "That meeting and what happened at that meeting is of significance to the special counsel."
Manafort has said he never lied to prosecutors. "Mr. Manafort, you know, did his best to answer the questions. He did not lie in any way," his lawyer, Richard Westling, said at the hearing.
Mueller's prosecutors, who have charged more than 30 people, are investigating whether anyone in the Trump campaign conspired with Russians. Kilimnik worked with Manafort and Manafort's former right-hand man, Rick Gates. Kilimnik was indicted last year with Manafort on witness tampering charges. He's abroad and hasn't answered the charges.
Jackson is set to sentence Manafort on March 13 for two conspiracy counts. Her finding whether he breached the Sept. 14 plea deal could influence how harshly she sentences him. Manafort faces a separate sentencing in Virginia for bank- and tax-fraud convictions.
Manafort's legal team had mistakenly revealed in an improperly redacted court filing on Jan. 8 that Mueller's prosecutors said Manafort had "lied about sharing polling data with Mr. Kilimnik related to the 2016 presidential campaign."
Mueller got that information from Gates, according to the transcript.
Manafort's attorney Kevin Downing also attacked Gates's credibility and urged the judge not to rely on it. Downing claimed that Gates lied during his testimony as a prosecution witness at Manafort's Virginia trial.
"I am aware that he was cross-examined fiercely, that his credibility was shaken enormously, that there were a number of issues that you argued successfully that he was not a good source, that there was evidence produced that he benefited from a lot of the financial things that were wrong, and that his credibility was attacked," Jackson said.
The special counsel's office has cast a wide net, indicting Russians who used hacking and social media trickery to influence the 2016 election. Mueller has also gathered evidence about Russian oligarchs.
Kilimnik flew on the private jet of Russian businessman Oleg Deripaska for at least one leg of the trip to attend the Aug. 2, 2016 meeting with Manafort, Vice News has reported. Deripaska, an ally of Russian President Vladimir Putin, emailed Kilimnik earlier in the year to offer "private briefings'' about the Trump campaign, the Washington Post reported.
Deripaska sued Manafort and Gates last year, claiming they defrauded him after he invested in a Ukrainian television venture in 2007 and 2008. Manafort wanted to meet Deripaska to end the dispute, according to two people familiar with the matter.
At the hearing, Weissmann also said that prosecutors believe that Manafort was lying about a $125,000 payment. The New York Times has reported the payment involved Manafort's use of money from a pro-Trump political action committee to help pay his legal bills.