Garland Warns of Domestic Terror at Oklahoma City Bombing Memorial
(Bloomberg) -- The terrorism that led to the bombing of the federal building in Oklahoma City almost three decades ago has morphed into a heightened threat from domestic violent extremists, Attorney General Merrick Garland said on Monday.
"Although many years have passed, the terror perpetrated by people like Timothy McVeigh is still with us," Garland said at an event marking the 26th anniversary of the 1995 Oklahoma City bombing. He didn't refer to the deadly Jan. 6 assault on the U.S. Capitol by extremist supporters of former President Donald Trump, but he's repeatedly made clear that addressing domestic extremism is at the top of his agenda as attorney general.
Garland gave his first major public speech as the top U.S. law enforcement officer in person at the annual remembrance ceremony for victims of the worst domestic terrorist attack in U.S. history. The bombing killed at least 168 people and wounded hundreds more.
Garland, who at the time was a federal prosecutor at the Justice Department, played a leading role in the prosecution of McVeigh and Terry Nichols for carrying out the attack. He invoked the "Oklahoma Standard," a community vow established after the bombing to help one another and resist terrorism.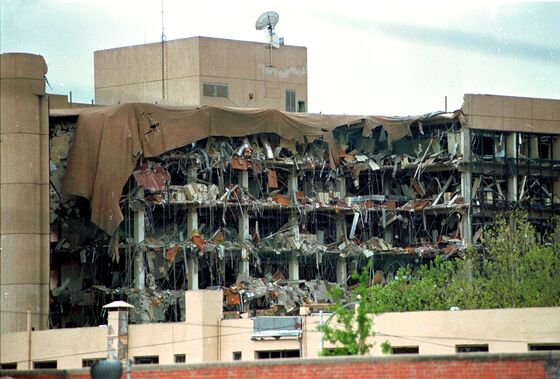 "Those of us who were in Oklahoma City in April 1995 do not need any warning," Garland said. "The hatred expressed by domestic violent extremists is the opposite of the Oklahoma Standard. This memorial is a monument to a community that will not allow hate and division to win."
Garland's speech comes as the Justice Department and Federal Bureau of Investigation warn about a heightened threat of attack from domestic violent extremists, and white supremacists in particular.
"The Department of Justice is pouring its resources into stopping domestic violent extremists before they can attack, prosecuting those who do, and battling the spread of the kind of hate that leads to tragedies like the one we mark here today," Garland said.
Garland, who offered a detailed remembrance of the scene of devastation he witnessed when he arrived in Oklahoma City after the bombing there and the community's efforts to come together afterward, said "understanding is the key to living peacefully, side-by-side, looking for common ground instead of allowing our differences to polarize us."