Gambia Truth Commission Begins Hearings Into Ex-Dictator's Rule
(Bloomberg) -- A commission that is investigating abuses under the 22-year rule of former Gambian President Yahya Jammeh began proceedings Monday as victims say they demand justice for atrocities committed against them.
The repressive reign of Jammeh, who seized control of the West African nation in a 1994 coup, was characterized by human-rights violations such as torture, disappearances and forcing HIV sufferers to follow his own treatment methods. He was ousted two years ago when regional leaders sent Senegalese soldiers and Nigerian fighter jets to enforce the election of President Adama Barrow the previous month.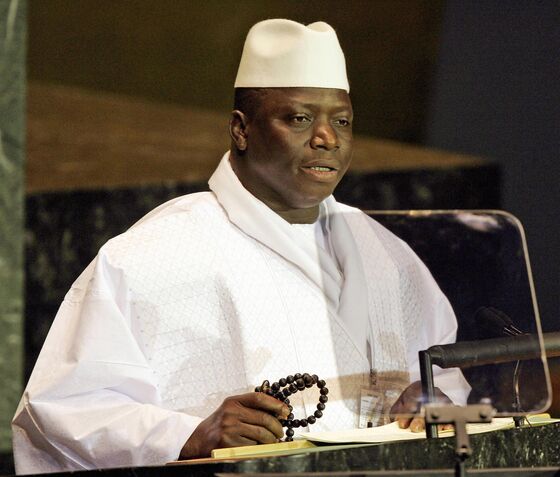 The Truth, Reconciliation and Reparations Commission "gives me hope that I will get justice for the crimes committed against me," Abdou Karrim Jammeh, who uses clutches to walk after sustaining gunshot wounds in 2000 in a students' demonstration which left 14 dead, said in an interview. "I think all other victims of human rights violations should come forward to tell their stories." Jammeh isn't related to the former leader.
The commission will sit for two years and probe events leading up to the coup that brought Jammeh to power and the failures of individuals and institutions that allowed for this two-decade dictatorship, Essa M. Faal, lead council, told reporters last week.
"The country needs this commission to avoid a repeat of the past; and that no government can impose a dictatorship on Gambia again," Chairman Lamin Sise said Monday at the start of proceedings in Kotu, 25 kilometers (15 miles) west of the capital, Banjul. It is about "the victims who would have the platform to tell their stories as we establish the truth about the past."
Gambia, home to about 2 million people and surrounded by Senegal aside from its access to the Atlantic Ocean, never had a smooth transfer of power. Almost three-quarters of the population depends on small-scale farming while the lure of its beaches for foreign tourists offer a vital source of revenue.