From Wall Street to Chicago, Markets Will Grind to a Halt Thursday
(Bloomberg) -- Once again, Shaw's Tavern in Washington is opening early for the big show on Capitol Hill. Last time, it was James Comey. Now, it's Brett Kavanaugh, nominee for the Supreme Court, and the woman who has accused him of assaulting her when they were teenagers.
This time Shaw's is offering bottomless mimosas for $15 -- last year it served a $10 "FBI sandwich." Unseemly perhaps, given the delicate nature of the hearings and the broader #metoo movement? Rob Heim, the general manager, shrugs off such concerns. As he sees it, he's just providing a place for people to gather and watch.
And watch, they will. Millions of Americans are once again sure to halt their normal routines Thursday to witness what is expected to be a riveting spectacle involving Kavanaugh and his accuser, Christine Blasey Ford. Many hours of productivity will be lost, no doubt. Traders say to expect a sleepy day on Wall Street as they stay glued to televisions.
"Markets are going to be looking at the TV screen and watching this reality TV show play out, rather than looking at the monitors wondering if the euro can move higher and break out here," said Michael Purves, chief global strategist at Weeden & Co.
Or as Steve Kalayjian, 55, chief market strategist and co-founder of Ticker Tocker LLC, a trading platform, put it: "The S&P futures trading is going to flatline," he said, extending his arm in a straight line as he hung out at a popular Chicago watering hole. "Only because everyone will be watching and not working."
Thursday will be "kind of like with March Madness," said Mike Bailey, director of research at FBB Capital Partners in Bethesda, Maryland. He noted the planned meeting between President Donald Trump and Deputy Attorney General Rod Rosenstein on the same day. "So you could have a double whammy there in terms of even more eyeballs on DC."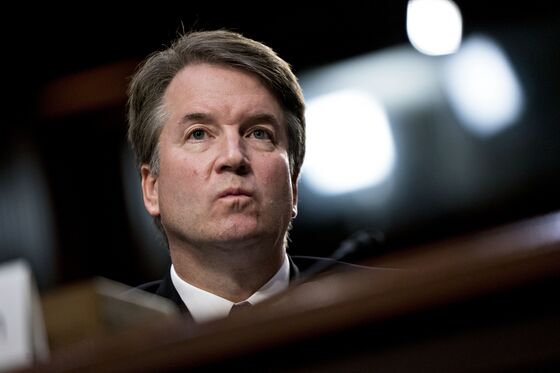 This is all assuming, of course, that lawmakers don't make a last-minute decision to hold the Kavanaugh hearing behind closed doors.
The level of interest can be seen in the ratings for Kavanaugh's interview on Fox News on Monday night. According to Nielsen, 3.6 million viewers watched, the biggest cable-news audience of the night and a smash for the 7 p.m. slot.
High-profile congressional hearings have drawn big TV audiences before. In 1991, more than 20 million homes watched Anita Hill's testimony before a Senate panel that Clarence Thomas had sexually harassed her. Some 40 million people tuned in to see former Marine Corps Lieutenant Colonel Oliver North testify before Congress during the 1987 Iran-Contra hearings.
Mark Spindel, founder and chief investment officer of Potomac River Capital LLC in Washington, said the hearings are likely to overshadow even the Federal Reserve's interest rate decision, expected Wednesday.
"The most boring event of the week now might be the Fed meeting," he said, adding: "Those of us in Washington are sort of glued to this kind of political theater."
While Spindel said the controversy constituted "a horrible series of accusations," he, like others, doesn't foresee any market repercussions.
Not everyone, of course, will be glued to their TVs. Jamie Lissette, a senior consultant for Hammerstone Markets, said he's so sick of the political noise that he's blocked tweets containing the words "rosenstein," "kavanaugh" and "Brexit" from appearing his feed.
And, in fact, traders may be engaging in a bit of hyperbole in predicting a slowdown on Wall Street Thursday. While the market may have paused when Comey testified for nearly four hours on June 8 last year, more than seven billion shares traded hands for the full day. That's a bit higher than the daily average over that quarter.
People like Mike Bailey see a possibility for the hearing to inadvertently cause some market mischief. His theory: The market generally is in a quiet period now, lacking earnings news or major economic data. With so many eyeballs on Washington, any kind of news affecting a company where sentiment is already dicey could produce some volatility if liquidity dries up, he said. As examples, he pointed to Facebook Inc. and General Electric Co.
Kirsten Wegner, chief executive officer of the Modern Markets Initiative, an advocacy group for high-speed traders, said she's closely tracking developments in the Kavanaugh case.
The matter has proven particularly attention-grabbing, she added, now that she and friends have children of their own growing up in the same D.C. metro area.
"We're questioning whether this type of situation is still happening in these schools," Wegner added. "And whether things have actually changed or whether we're back in the era of Anita Hill. It does strike close to home."
One place where it's likely to be business as usual: the Supreme Court, which if it follows its typical practices will issue a list of new cases Thursday morning at 9:30, or about a half hour before the Kavanaugh hearing is set to begin. The eight current justices met privately earlier this week to discuss which cases to add to their docket. Their term formally opens on Monday.