French Riots Hand Italy New Ammunition in EU Budget Tussle
(Bloomberg) -- Italy's populist government is warning its European partners that the country's social stability could be at risk if Brussels pushes back too hard against its 2019 budget proposal, invoking the Yellow Vest protests in France.
As the coalition begins discussions on a cost analysis of its 2019 budget plan, Prime Minister Giuseppe Conte is seeking leverage for talks this week with European Commission President Jean-Claude Juncker. Concerns across the continent over the growing grass-roots movement in neighboring France may just give him the ammunition he needs.
"The pictures we see from Paris are the ones we don't want to see in Italy, and this is why we want to guarantee growth and social peace," Deputy Prime Minister Matteo Salvini said Monday, in remarks quoted by news agency Ansa.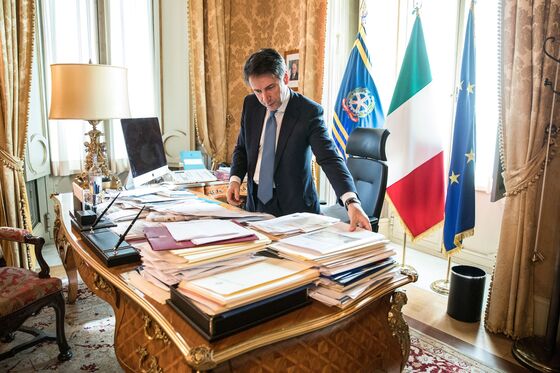 While Brussels has insisted it will sanction Italy if its budget doesn't meet European Union spending rules, focusing on the proposed deficit level of 2.4 percent, the prime minister may seek additional leeway when he travels to the European capital this week, arguing that a deal on the Italian budget goes beyond mere numbers.
Conte will argue that his government is the only defense against unrest and social revolt taking place across Europe, La Stampa reported Monday. The country "can't concentrate only on financial stability, we also need to look at social stability," the premier was cited as saying.
The ruling coalition, comprised of the rightist League and the anti-establishment Five Star Movement, is wrangling with the bloc after drawing up a budget aimed at funding costly election promises including a guaranteed income for the poor and a pension-system overhaul.
After the commission rejected the cabinet's proposed deficit target of 2.4 percent of gross domestic product for 2019, the parties' two leaders, Deputy Premiers Salvini and Luigi Di Maio, are being pushed toward making concessions to avoid possible sanctions.
Reports that the EU might offer Rome six more months to comply with its recommendations could be good news for the government, which hopes that the outcome of European elections in May will shift the balance of power toward populists. Delaying a possible announcement could mean that sanctions won't be implemented at all.
Salvini on Sunday took pains to remind critics that Italy's government, unlike some in Europe, is in touch with the population and understands its concerns. "People I meet in the streets are not asking me about 2.4 percent or 2.5 percent, but about jobs, pensions, real things," Salvini said in a Rai television interview.
Di Maio, commenting Monday on the Yellow Vest movement, said "this is a very delicate moment for Europe," adding that the main issue is austerity. "I always hope, including in countries like France, that requests can be channeled into a democratic solution," the deputy premier told reporters in Rome.
Conte is slated to speak before parliament on Wednesday to present Italy's position before the EU meetings. Finance Minister Giovanni Tria, who has been reported by local media to be pushing for greater concessions to the bloc, said Saturday he sees the possibility of an agreement. Italy's lower house of parliament approved the budget bill Saturday.