French PM Outlines Tougher Penalties for Yellow Vests Violence
(Bloomberg) -- French Prime Minister Edouard Philippe on Monday said the government will take new measures to deter violence against police and damage to property after an eighth consecutive Saturday of Yellow Vests protests.
The protesters will face tougher penalties for taking part in undeclared demonstrations, covering their faces, and would be required to pay for the damage they cause, Philippe said on France's TF1 television. More than 80,000 police officers will be mobilized nationwide for an expected fresh round of protests next Saturday, he said.
Some measures being considered would resemble those used to keep hooligans out of football stadiums, Philippe said, without providing further details. "I want the debate that the president has called for to take place in a calm atmosphere," he said.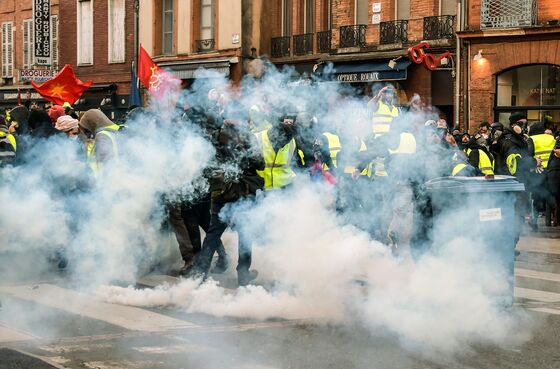 Police arrested 345 people during protests in cities across France on Saturday, as the number of Yellow Vests swelled to an estimated 50,000 following a dip during the Christmas holiday period, according to AFP. French TV showed images of burnt vehicles and police officers coming under attack, while one group of people used a forklift to smash in the entrance to the ministry of government spokesman Benjamin Griveaux.
While many of the Yellow Vests demonstrations have been peaceful, a total of 5,600 protesters have been arrested to date and about 1,000 convicted of breaking the law, Philippe said.
Griveaux on Monday slammed opposition parties for failing to condemn the actions of protesters, accusing political leaders during an interview on France Inter radio of "moral and intellectual capitulation."
"People who insult, attack, vandalize, pillage, burn, steal have no place in the republic, they must be identified, prosecuted and heavily sentenced," Griveaux said.
Budget Minister Gerald Darmanin said in a separate interview on RTL radio that the government needed to show "ultra-severity" in "the face of ultra-violence."