'Yellow Vest' Protests in France Lead to More Than 100 Arrests
(Bloomberg) -- French police arrested more than 107 people on Saturday as clashes continued with "Yellow Vest" protesters, Prime Minister Edouard Philippe said.
Close to 36,000 people are estimated to be taking part in a third weekend of nationwide protests, Philippe said on LCI television.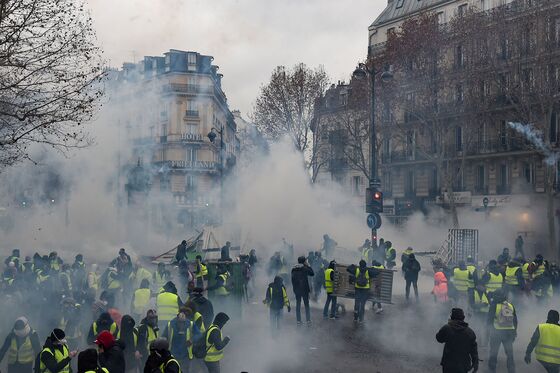 The prime minister said he had been "shocked" by images in Paris of graffiti on the Arc of Triumph and violent protests around the tomb of the unknown soldier, where world leaders came together three weeks ago to commemorate the centenary of the end of World War One.
The "considerable number" of arrests illustrates both the "violence being expressed against the police and our determination not to tolerate anything," Philippe said. He said that while freedom of expression would be defended, the law must also be respected.