French People Are Disillusioned With Their Democracy, Poll Shows
(Bloomberg) -- The French feel dis-empowered in the current political system and a majority are willing to hand control to technocrats, according to a poll published by Ifop pollster on Wednesday.
Asked for two examples of where power resides in France, financial markets were mentioned by 54 percent of respondents, ahead of the president at 49 percent. Citizens and voters were cited by only 8 percent of respondents.
To overcome France's difficulties and pass unpopular reforms, 59 percent of French people would agree with having an un-elected technocratic government. For the same reasons, 41 percent said they would agree with having an "authoritarian political power" with less democratic control, according to Ifop's findings.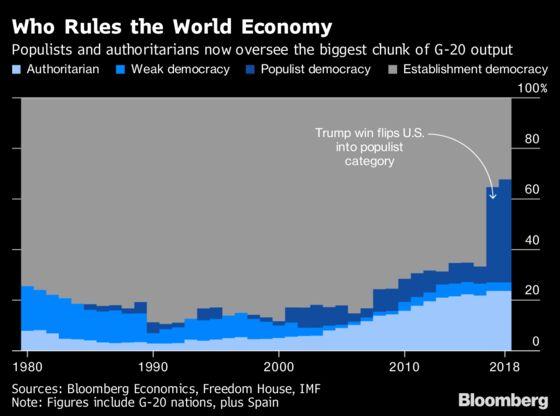 The poll sends a jarring message to Emmanuel Macron, whose own approval ratings have sunk in recent months. The 40-year-old has styled himself as the leader of liberal political parties in Europe, pushing back against advances of nationalist and authoritarian parties.
Ifop also asked participants to name the two French presidents who best embodied power. Macron was only cited in 12% of responses, behind all presidents except his predecessor Francois Hollande.
Ifop polled 1,006 people online Oct. 16 and 17.