French Harbors Say They're Ready for a No-Deal Brexit
(Bloomberg) -- A no-deal Brexit may be coming, and French harbors -- which handle more than half of the transit of goods and people between U.K. and Europe -- say they'll be ready for it.
"Everything that needs to be done has been launched," Vincent Pourquery de Boisserin, France's national coordinator for harbors, said Wednesday in a phone interview. "My mandate is to make sure we are ready to face the most constraining situation."
About 60 percent of all goods and people moving between the U.K. and the European Union go through French harbors and the Channel Tunnel terminal, according to Pourquery de Boisserin. After the British Parliament's vote on Tuesday, the threat of a no-deal Brexit has grown, prompting French harbors to expedite processes.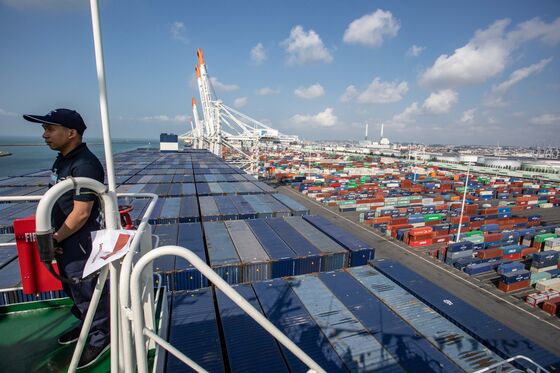 "For the past 40 years, all these exchanges went through under the Schengen Treaty, with no hard control at the borders," Pourquery de Boisserin said. "So it's a complete change of model. Everything must be thought through, designed and built."
By March 29, which is the deadline for the U.K. to exit the EU, 580 additional customs and sanitary staff will be in place, some working in prefab buildings and temporary installations. Hiring processes have been accelerated while the procedure for building new infrastructure has been shortened, thanks to a bill passed last week, Pourquery de Boisserin said.
Nine locations on the French coastline have been identified as key: Brest, Roscoff and Saint-Malo to the west, Cherbourg, Le Havre, Dieppe, Caen/Ouistreham and Calais, plus the tunnel terminal in Coquelles. Other harbors such as Rouen have minimal exchanges with the U.K. Building works in some sites, like the Eurotunnel terminal, have already started, he said.
France plans to invest 50 million euros ($57 million) in ports and airports for Brexit and the money is coming from the French budget, Pourquery de Boisserin said.
"At that stage, there is no plan to get the EU to contribute to these additional expenses," he said.