French Envoy Says 'a Lot of Work' Remains to Repair U.S. Ties
(Bloomberg) -- French Ambassador Philippe Etienne said there's still "a lot of work to do" to patch up ties with the U.S., even after a series of high-level visits between officials of the two countries, as the allies try to move past a rift that opened over an American defense agreement with Australia and the U.K.
The two sides have started an "in-depth consultation process" that has involved "very, very substantial meetings," which will be continued with a meeting between Presidents Joe Biden and Emmanuel Macron later this month, Etienne said in an interview with Bloomberg Television on Tuesday.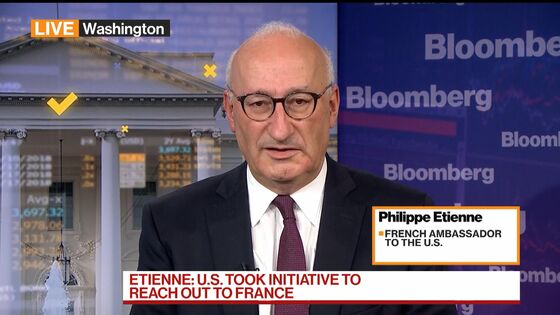 "We decided to move -- not yet done, we have still a lot of work to do -- but at least we have this process, and it must lead to a meeting by the two presidents at the end of the month," said Etienne, a veteran diplomat who has served as French envoy to Washington since 2019. Biden and Macron are expected to meet on the sidelines of a Group of 20 gathering in Italy at the end of October. 
The Biden administration has been looking to make things right with France in the weeks since the spat broke out over Australia's decision to scrap a $66 billion submarine contract with France and turn to the U.S. and the U.K instead. 
Video: Philippe Etienne of Republic of France on Bloomberg US TV
Secretary of State Antony Blinken met Macron and other senior officials in France last week, as did National Security Advisor Jake Sullivan. The two sides have identified three areas for future cooperation: European security, the Indo-Pacific region and working together on counterterrorism in the Sahel region of Africa.
Etienne, who was briefly recalled to Paris in a show of French displeasure after the submarine deal was announced, suggested that his country was encouraged by the U.S. reaction since then. "We recognize that the U.S. took the initiative to reach out to us," he said.