French Ask Where Does Their Tax Money Go? Well, Back to Them
(Bloomberg) -- What has the French state ever done for us? President Emmanuel Macron is trying to answer that question in his latest attempt to quell the Yellow Vest protests.
As part of a public debate that began this week, his government is publishing pamphlets designed to enlighten protesters who've called for lower taxes and less spending on what they see as pampered state officials. The message is simple: France may be the most taxed developed economy, but it also has the highest level of public spending, and most of it goes to social security and low income households.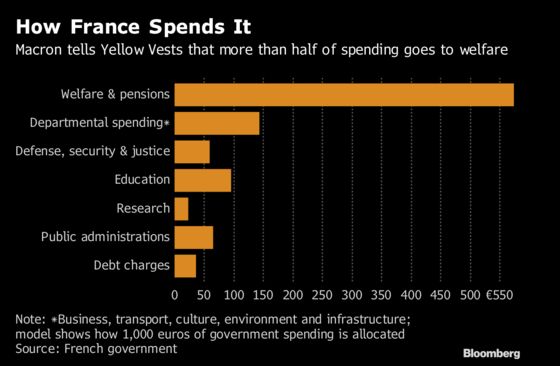 In the leaflet, the government seeks to debunk the idea that officials are sucking up tax revenue to live the high life. Only one of every 1,000 euros ($1,140) the French state spends goes to the National Assembly, the Senate and the ministries, it says. That compares to 268 euros for pensions and 191 euros for healthcare.
Thanks to high spending, France's poorest are better off, the government also says. Redistribution of tax revenues boosts the average income of the poorest 20 percent to 960 euros a month from 560 euros.
The information campaign is part of a national debate Macron announced late November to try to calm down the Yellow Vests movement. But protesters continue to gather at weekends, and while their number has diminished, the level of violence hasn't.
The pamphlet concludes with a list of eleven questions asking participants in the debate how they would change things and where tax and spending should be cut. Question 2 is perhaps the hardest: what should be done to make tax fairer and more efficient?