Banks Put Under Pressure on Bad Loans in Franco-German Plan
(Bloomberg) -- European banks are facing increased pressure to shed bad loans.
Banks in the euro area should aim to reduce non-performing loans to 5 percent of total loans, according to a French and German plan to strengthen the currency bloc. The would force lenders in some countries, such as Greece, Italy and Portugal, to offload more soured assets.
Lenders that don't meet the target -- and their regulators -- should take steps to bring the firms into compliance "in a short period of time," the document states. The European Central Bank is already prodding banks to sell or wind down the soured credit on their balance sheets. The ECB is also working on new guidelines on existing bad loans, which may include deadlines for fully provisioning against losses.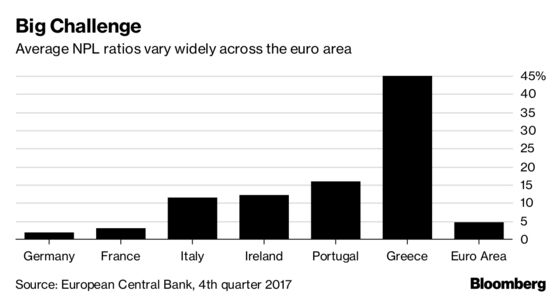 The European Union is making progress in reducing non-performing loans, with the euro-area total down to 768 billion euros ($888 billion) in December from 912 billion euros a year earlier. But efforts to accelerate the process have proven controversial. Italy, with the currency bloc's largest bad-debt pile, has led opposition to stiffening provisioning rules.
Felix Hufeld, the president of German banking supervisor BaFin, said on Wednesday that when the authorities take on "touchy issues" like non-performing loans, "we get massively attacked from the political side in a whole range of countries."
The bad-debt target is part of a broader plan by France and Germany to develop the currency union. While the two sides agreed to set up a euro-zone budget and beef up the role of the European Stability Mechanism -- the euro-area bailout fund -- they postponed decisions on some elements that could prove consequential.
Reducing risks in the financial system, including non-performing loans, is a key demand from Germany, which doesn't want its taxpayers to be on hook for losses incurred by banks in other countries. The ECB and the European Commission, the EU's executive arm, issued plans earlier this year to tighten the provisioning rules on new non-performing loans.