France Warns of U.K. Blackmail as EU Prepares Negotiating Stance
France warned British Prime Minister Boris Johnson not to use "blackmail" to secure a trade deal as European Union member states prepare to finalize their negotiating position, allowing talks between the two sides to begin next week.
Ministers from the bloc's 27 national governments will meet Tuesday in Brussels, where they are expected to sign off on the mandate for the EU's negotiating team, an official told reporters in the Belgian capital. But with France still pushing for the EU to strike a tougher line with the U.K., there's a chance the document may not be ready for the politicians to sign, the official cautioned.
The mandate is a compromise that has to be agreed on by all EU governments before negotiations with the U.K. on the two sides' future relationship can begin. It sets the parameters for bloc's position on issues such as trade, security and financial services as negotiators race to strike a deal before the end of 2020. France is pushing for stronger language to force Britain to follow EU rules or common standards in future, something that the U.K. government has ruled out.
French Europe Minister, Amelie de Montchalin, one of those who needs to sign off the mandate on Tuesday, took to Twitter to warn Britain that it won't settle for a bad deal.
"Just because Boris Johnson wants an agreement at all costs" by Dec. 31, she said, "doesn't mean that we will sign a bad agreement for the French under the pressure of blackmail or time pressure."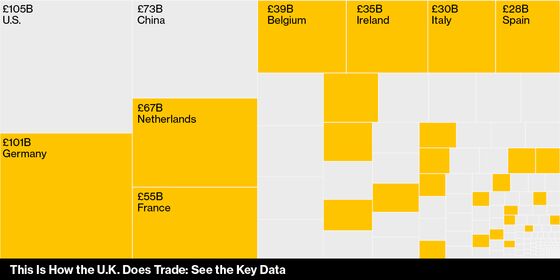 Prime Minister Boris Johnson's spokesman denied on Monday that the U.K. is trying to blackmail France.
While the EU remained broadly united during the negotiations with the U.K. over its withdrawal from the EU, Britain knows it can still turn any division to its advantage as the two sides thrash out the terms of future trade and cooperation.
Over the weekend, the U.K. government seized on the time it's taking the 27 member states to agree their joint position, with Johnson's office accusing the EU of being "hamstrung by indecision and delay due to the competing interests of different member states."
The bloc is still likely to have its mandate ready as scheduled on Tuesday, according to the EU official, who spoke on condition of anonymity because the discussions are private. Ambassadors from each government will meet in Brussels on Monday and aim to have an agreed text ready by the end of the day.
The U.K. is planning to publish its mandate for the negotiations on Thursday before negotiations between the two sides are scheduled to begin in Brussels on Monday.