Euro Chiefs Dismayed by Italy's Budget as Juncker Evokes Greece
(Bloomberg) -- Italian Finance Minister Giovanni Tria's effort to promote his government's new fiscal strategy ended in failure on Monday, with the head of the European Commission warning of a Greek-style crisis and the nation's bonds dropping to their weakest level in more than four years.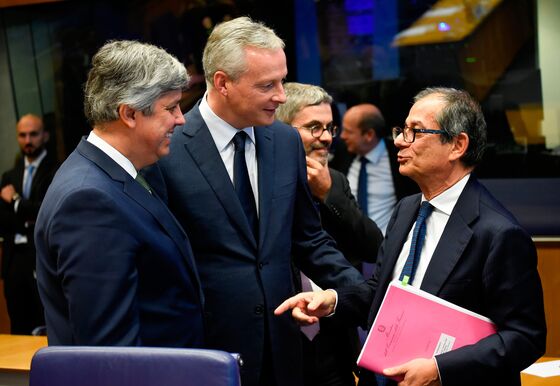 "Recent announcements by the Italian government have raised concerns about its budgetary course," Mario Centeno, the Portuguese finance minister, said in Luxembourg after a meeting with his euro-area counterparts, which he heads. Dutch Finance Minister Wopke Hoekstra went further, saying "I'm somewhat less optimistic after having talked to my colleagues than beforehand."
Tria is attempting to reconcile expensive campaign promises made by his coalition government with euro-area rules that require member states to adhere to certain deficit targets. And while Italy will present its budget to the commission in mid-October for approval, officials in Brussels have already indicated that it may not stand up to the bloc's rules.
Italian bonds extended their decline for fourth consecutive day on Tuesday morning with the yield on 10-year notes rising to 3.4 percent, the highest since March 2014. The spread over German bunds widened further, reaching 294 basis points.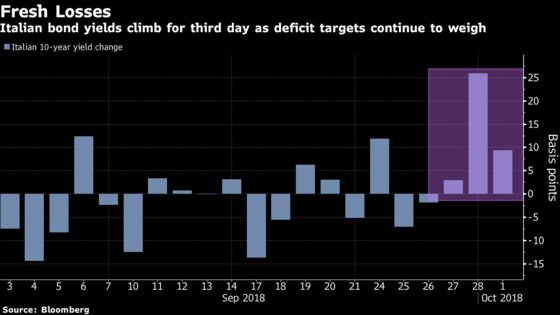 During Monday's unscheduled discussion about Italy, Tria sought to defend his government's decision to breach EU rules that require highly indebted countries to narrow their structural deficit, telling peers that the budget targets have to be understood in the context of an economic slowdown in the euro zone and in Italy.
His defense was met with a tennis metaphor by EU Commissioner Pierre Moscovici, according to people familiar with the behind-closed-doors debate. One can discuss if a ball is on the line, but not if the ball is clearly out of the court, Moscovici said, according to the account.
Tria told his peers that negotiations are still ongoing and that he is open to further discussions once the budget is finalized and it's been submitted to the commission. After the meeting, he stopped short of saying that a target for 2.4 percent deficit next year can be revised. However, he declined to explicitly exclude it when pressed by reporters.
"One crisis was enough," Commission President Jean-Claude Juncker said in televised remarks at an event in Freiburg, Germany. "After the toughest management of the Greece crisis, we have to do everything to avoid a new Greece -- this time an Italy -- crisis."
Tria is fighting a rearguard action inside Italy's coalition government with deputy prime ministers Luigi Di Maio and Matteo Salvini, the administration's two political heavyweights, demanding more resources to deliver on their election promises. Tria had tried to limit the deficit target to 2 percent of GDP during last-ditch negotiations on Thursday before ultimately agreeing to 2.4 percent.
The government "will never sacrifice workers on the altar of the spread and of the crazy rules which have been imposed on us," Di Maio told reporters on the sidelines of a conference in Rome. "This government doesn't butcher people, the music has changed."
Italy has the highest nominal debt in the continent and the second-biggest after Greece as a ratio of its economic output, meaning that doubts about its ability to refinance its obligations could pose an existential threat to the common currency.
Moscovici, speaking before the meeting in Luxembourg began, said he couldn't see how Italy's preliminary budget figures would be compatible with the bloc's limits. Plans for a budget at 2.4 percent of economic output is a "very, very significant" deviation from commitments, he said.