France Vows to Continue Fight Against Mali's Jihadists
(Bloomberg) -- France remains committed to fighting Islamist militants in West Africa, Prime Minister Edouard Philippe said, two days after French troops killed a prominent jihadist leader.
Philippe spoke during a visit to Mali, where France has deployed about 3,000 soldiers to hunt militants following a 2012 insurgency that almost led to the collapse of the state. Despite the deployment of more than 15,000 United Nations peacekeepers, militants are now increasingly active in the country's center and target civilians as well as Malian troops.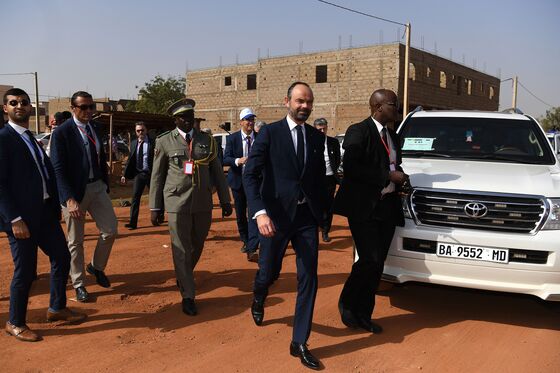 His comments came shortly after the French Defense Ministry announced its soldiers had killed Yahya Abu Hammam, an Algerian top commander of al-Qaeda in the Islamic Maghreb who was designated a terrorist by the UN and the U.S. Hammam was traveling in a convoy near the desert city of Timbuktu when French ground and air troops attacked him in a "spectacular action that was the result of years of investigations," the ministry said in a statement from Paris.
"France will stay in Mali as long as necessary and as long as Mali wants," Philippe told reporters in the capital, Bamako.